Let's hope we are the last to say it but thank God this year is almost over. May we all come into 2021 healthy happy and ready for a full recovery. In an effort to enjoy a more calm and hydrated year, here are our picks for stand-out CBD beverages to sip on in the new year.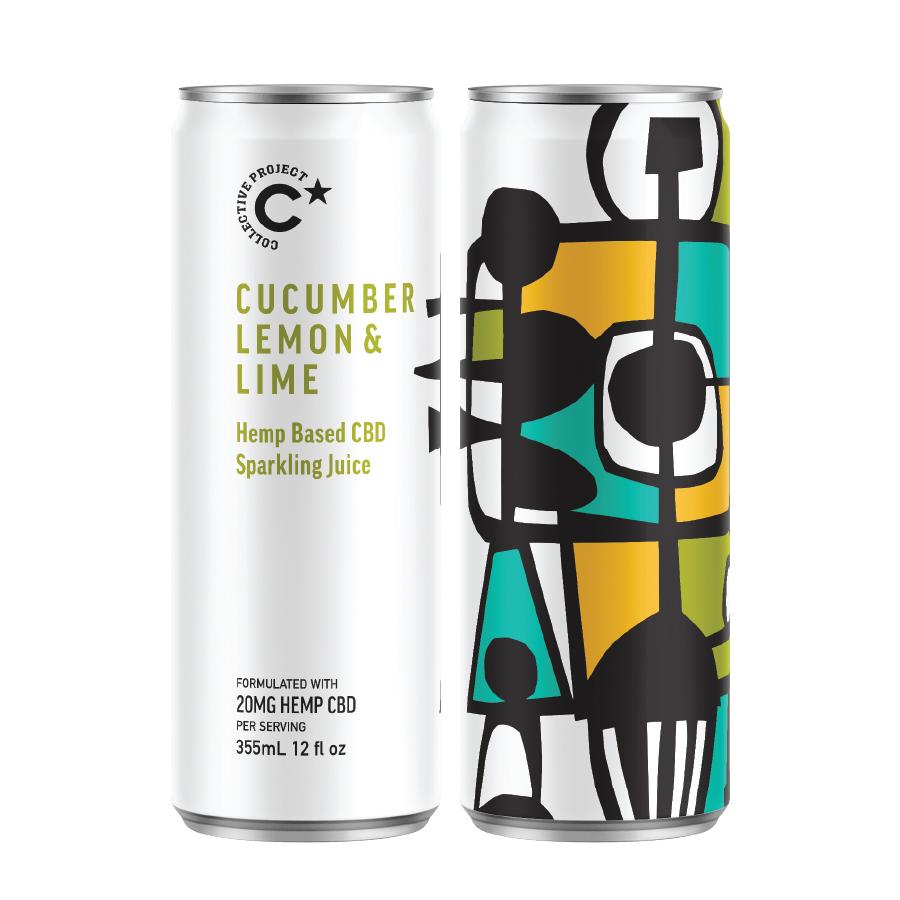 Collective Project
Collective Project is committed to producing high-quality CBD-infused beverages inspired by cocktails. These drinks are made with fresh ingredients that are all-natural, gluten-free and non-GMO. Super refreshing in taste, these drinks are well-balanced in both flavor and dose. Collective Project is also dedicated to supporting the global arts community. Their beverage lineup features rotating, limited-edition works of art by artists from around the world, creating a refreshing art gallery with all the benefits of CBD. Our favorite was the Cucumber Lemon & Lime.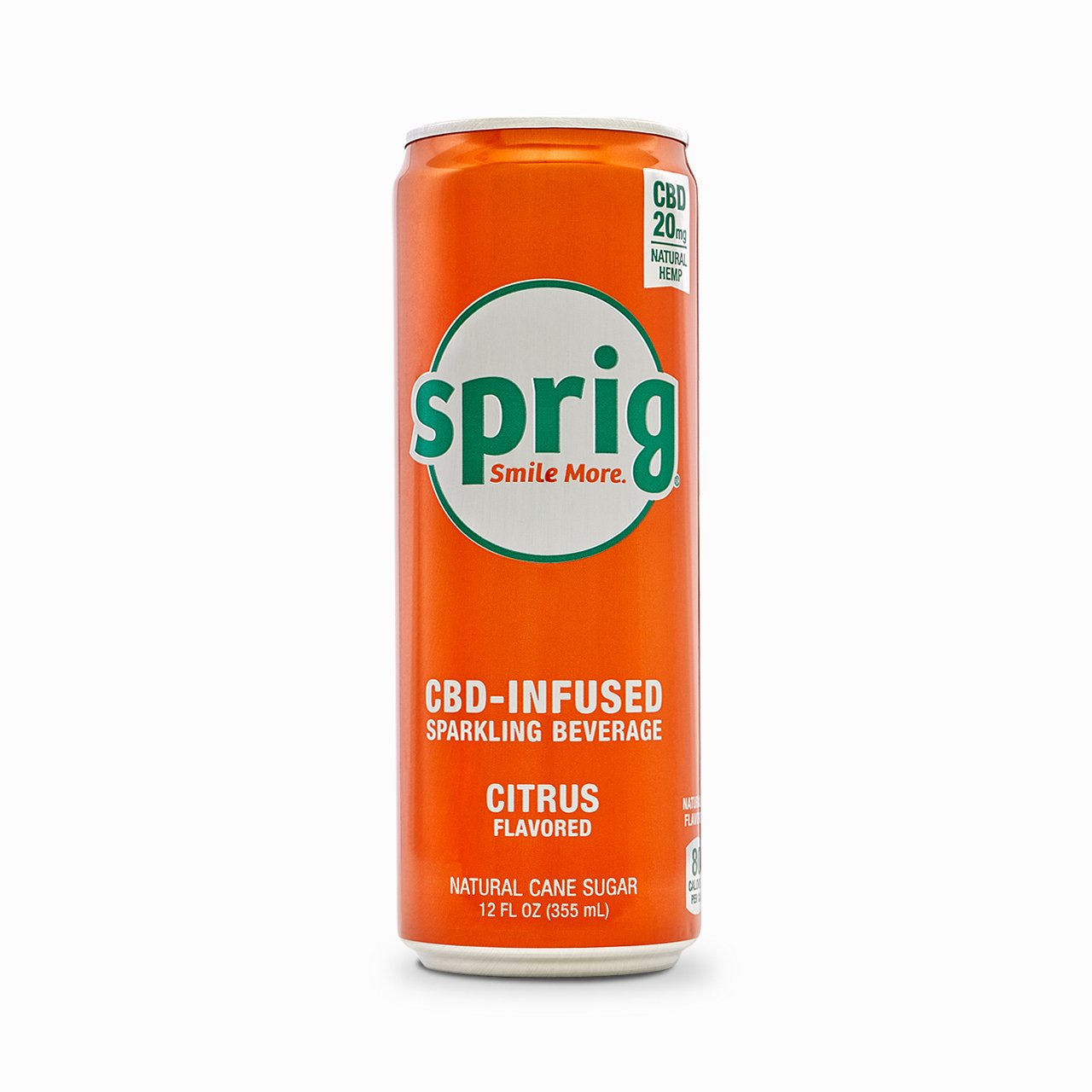 Sprig
Although the Sprig brand has been in the game for some time, they jumped back on our radar with a slick redesign of their cans.  Founded in 2015 in Newport Beach, California, Sprig uses pure, lab-tested hemp CBD, sourced from licensed, sustainable U.S. farms. Each batch of Sprig is lab-tested, both at the time it is made and over its one year shelf life, to ensure it's free of impurities, and that it contains the amount of CBD stated on the label. While we enjoy all of Sprig's CBD beverages, the Citrus flavor is at the top of our list. It is full of natural flavor, caffeine-free, and contains zero THC.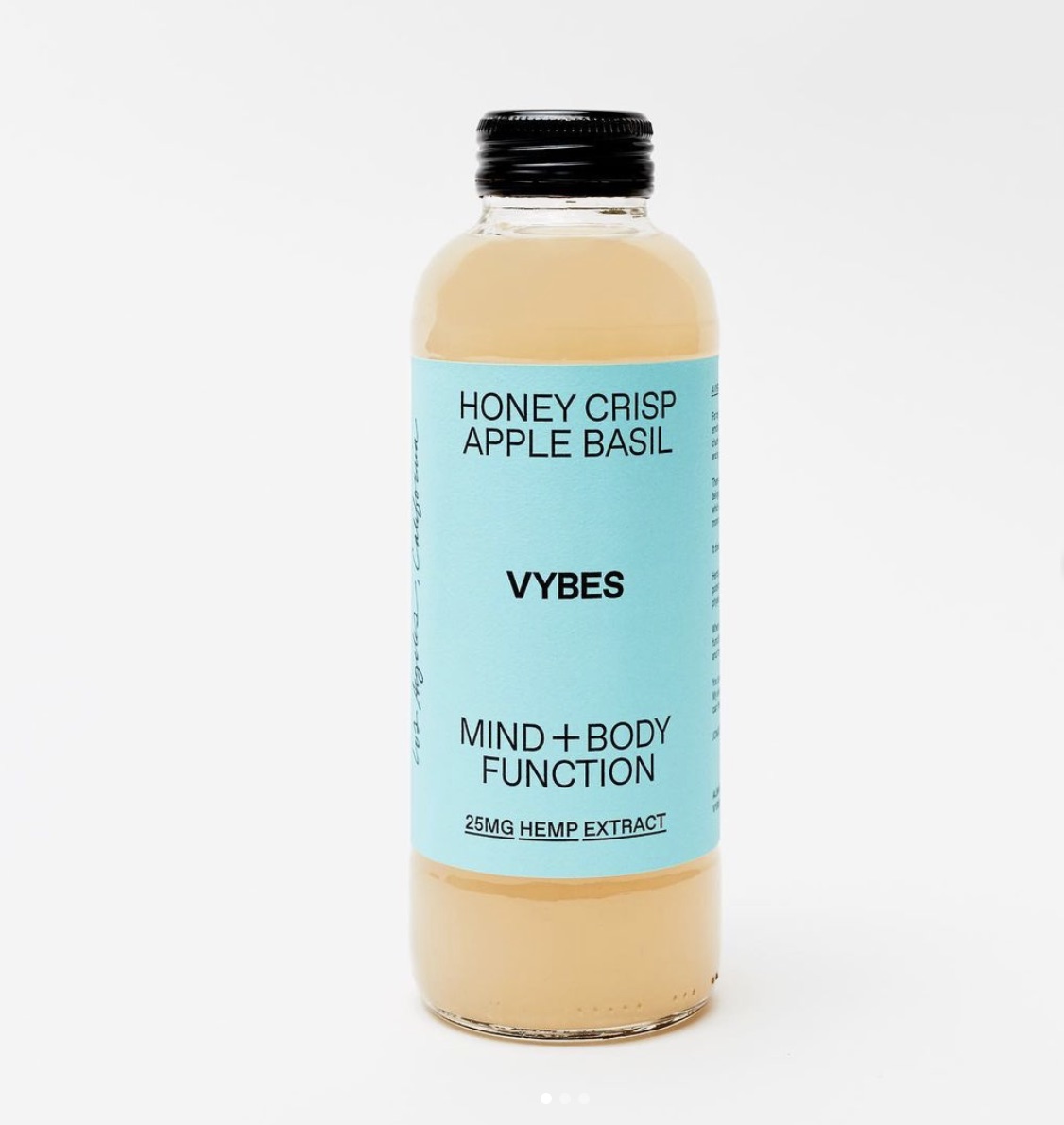 Vybes
This brand is our go-to refreshment mid-day or after a morning workout. Vybes enjoys a cult following in So-Cal, and with shipping now offered nationwide, we are expecting big things from then in 2021. Vybes is on a mission to drown out all the noise and distractions of the world's ever-increasing stressors with their tasty drinks. They believe that cannabinoids and adaptogens hold untold powers, and their beverages are crafted with that potential in mind. The Honey Crisp Apple Basil steals the show with its unfiltered apple juice, Meyer lemon juice and organic basil.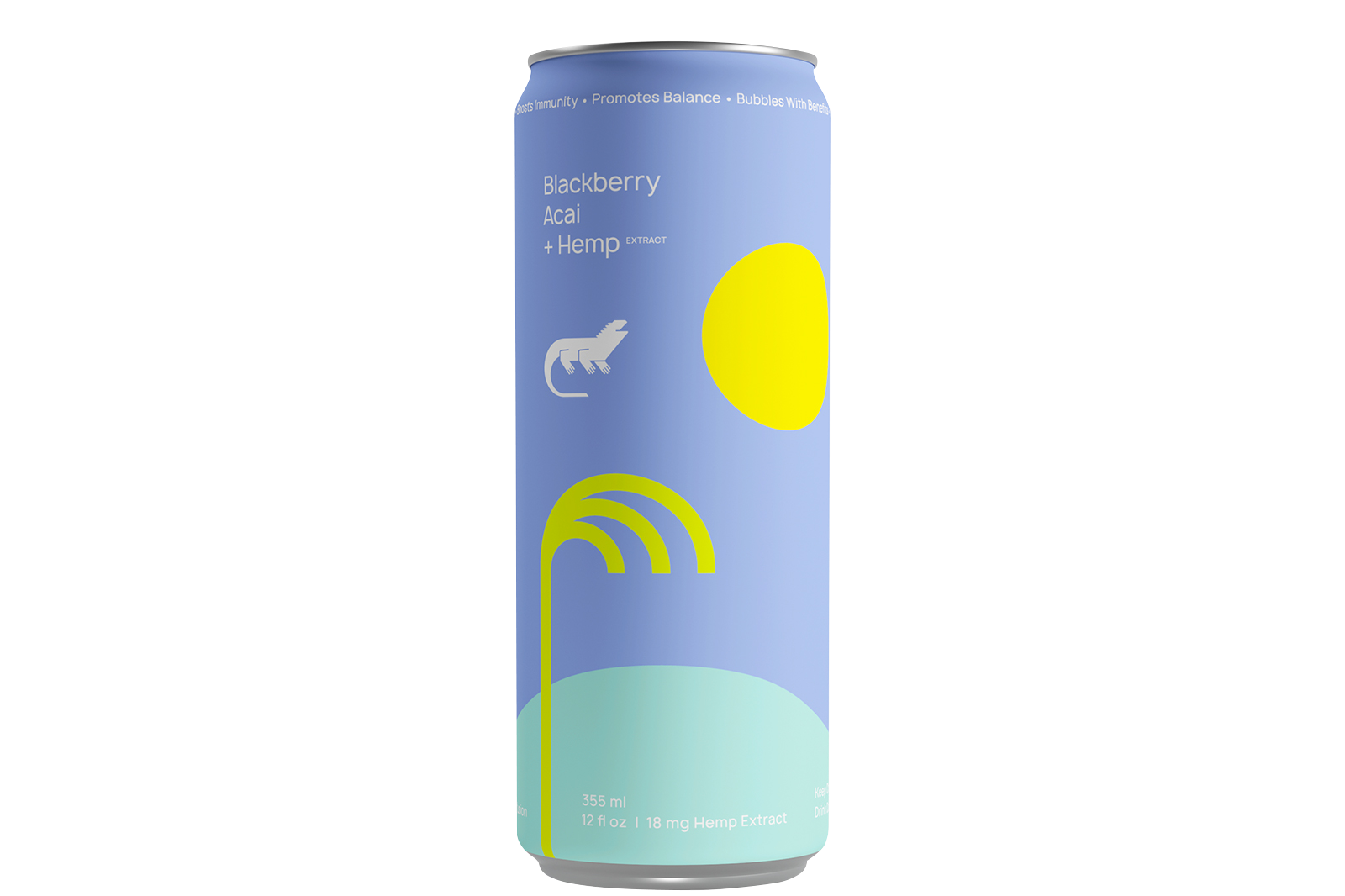 Iwanna Brands
This is our new-kid-on-the-block spotlight. Launched in 2020, they have already made a big splash with their retro cans and deliciously unique flavors. Iwanna Brands believes in the value of ingredients and the virtue of intention. They care about the journey their CBD takes to get to you. This starts with extensive lab testing to ensure the quality of their hemp. They source only the freshest ingredients and deliver them in sustainable packaging to protect the planet. Their tropical flavors are inspired by the natural habitat of the iguana, the reptile which the brand is named for. Even the iguana's healthy diet of vines, fruits, and flowers are incorporated. We liked the Blackberry Acai best. The sweet blackberries and nutrient-packed Acai deliver the most amazing flavor and is high in antioxidants.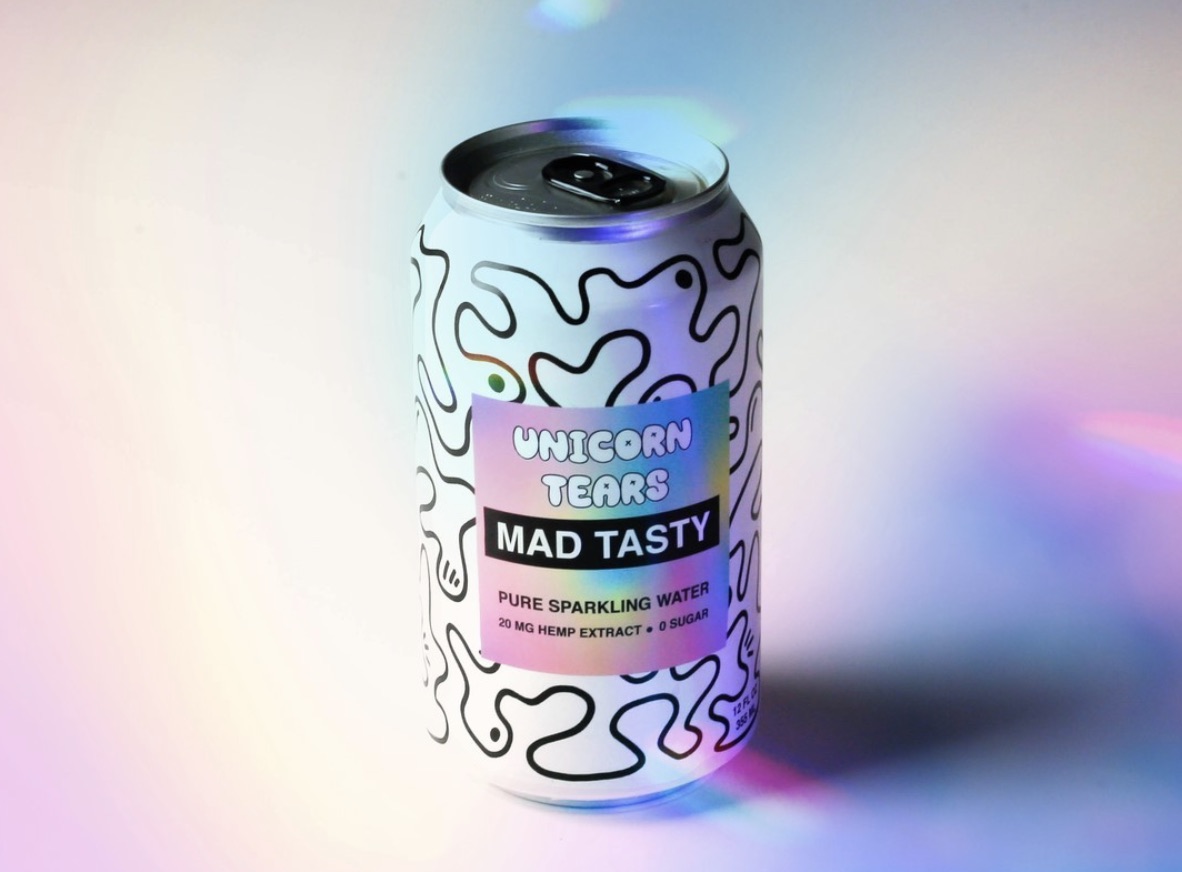 Mad Tasty
As goes a name not always goes the taste. In this case, the drink absolutely lives up to the brand name. These drinks are mad tasty! Mad Tasty was born in Santa Monica in 2018 while Grammy winning producer, singer and songwriter Ryan Tedder was searching for the ultimate hydrating and energizing beverage. These drinks are the perfect alternative to water – they are more fun to drink and will keep your creative energy up during any stressful work day. Each can will help you zone in – not out. If we had to pick one (which you don't), we would take home Unicorn Tears. Not only does this exotic and mysterious blend of natural flavors refresh the brain, it also just makes you feel cool and part a secret, inside joke.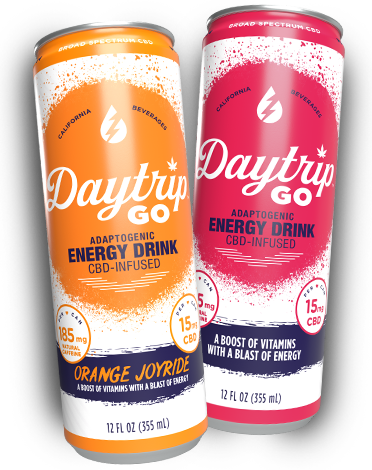 Daytrip
Perfect for that long powder day, late afternoon surf trip, or a Friday night out, Energy Bump is the new line of energy drinks by Daytrip. The team at Daytrip crafts natural, premium CBD-infused beverages that delight the senses and open the mind to new possibilities. Daytrip uses high-frequency energy to minimize the multi-spectrum CBD, creating particles that are 100% water-soluble and small enough for the human cell to process. Their new line of energy drinks, Daytrip Go, is the perfect solution for the active hemp enthusiast. While CBD is often used for its relaxing benefits, Daytrip emphasizes that CBD actually enhances the effects of natural caffeine while minimizing the undesirable side effects, such as energy spikes and crashes. Although all the varieties currently available are just the right amount of get-up-and-go mixed with flavor, we picked the Raspberry Daytrip Go as our favorite.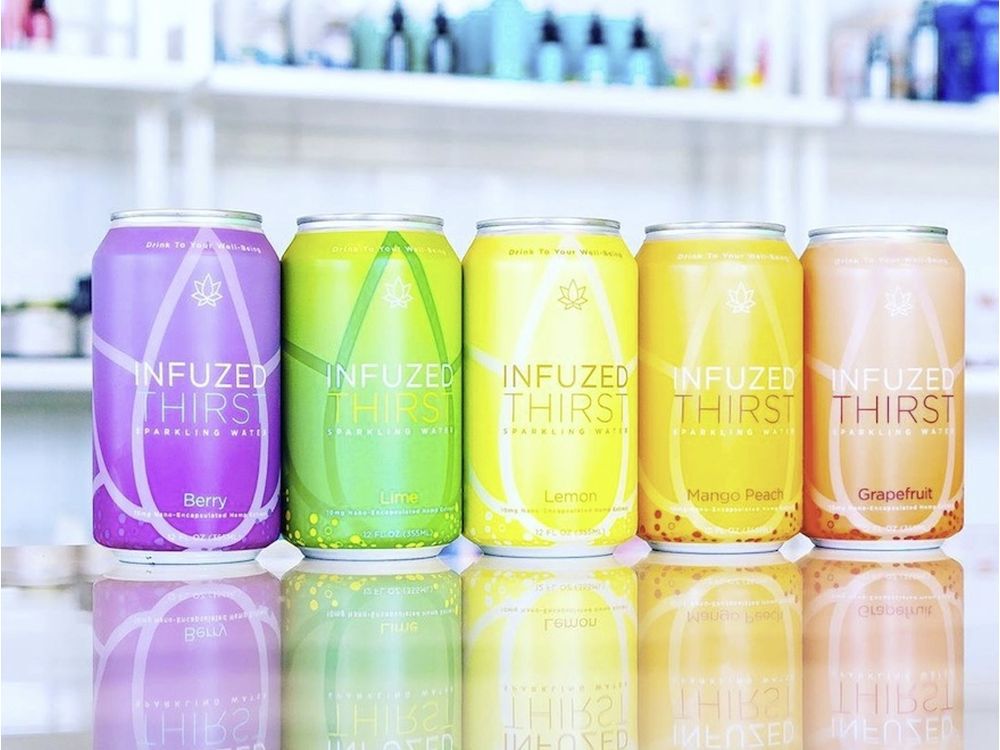 Infuzed Brands
Your body's wellbeing should be at the core of drinking any CBD beverage.  This is precisely the mission of this stand-out-brand.  Infuzed Brands is committed to your health and wellness, the way nature intended. Their mission is to provide you with energy, relief, restoration and balance using the healing power of plants.
Their entire line of functional beverages contains zero calories, zero sugar, all-natural flavors and broad-spectrum hemp complex – the non-psychoactive component of the hemp plant. All of their flavors are made with broad-spectrum CBD. Broad-spectrum hemp extract is being researched for its widely reported effects in restoring, recovering and refreshing the mind and body. This naturally occurring compound is being sought after by athletes, the elderly, and anyone looking to gain balance and well-being to their daily lives. The Lime flavor is our top pick, as it delivers that full citrus flavor but does not over power the desire for a clean sparkling drink.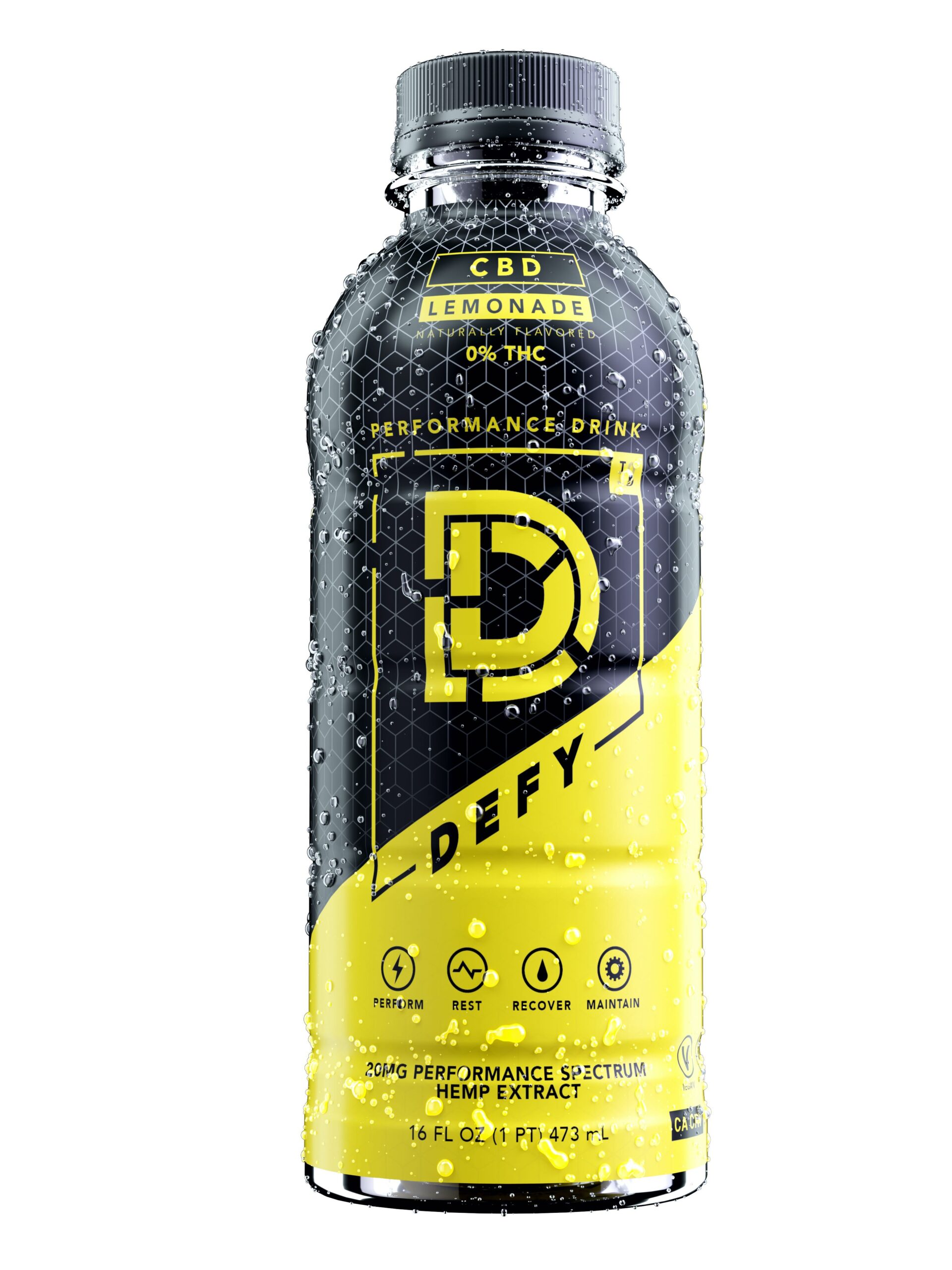 Defy Drinks
To be clear, Defy Drinks are not energy drinks. Rather, they are performance CBD drinks designed to fuel your essential self. In 2017, NFL Hall of Fame Running Back Terrell Davis first used CBD to recover after a workout – and it genuinely changed his life. He recovered faster between workouts and achieved a level of locked-in focus that helped him defy the challenges that hold athletes back, such as injuries, overworked muscles and the deteriorating effects of age. Inspired to share these benefits with all athletes and exercise fans alike, DEFY was born.
DEFY is the world's first mainstream CBD created specifically for athletes and those who want to excel in the gym. Formulated to aid in rapid muscle fiber recovery and clear-headed, hyper-focused training, DEFY delivers naturally derived performance, recovery and rejuvenation for every kind of athlete. Although these drinks are specific for athletes, we also enjoy them as the perfect start to any day. Try the Lemonade flavor first – it's packed full with healthy additions and  is one of the more refreshing drinks we've tried so far.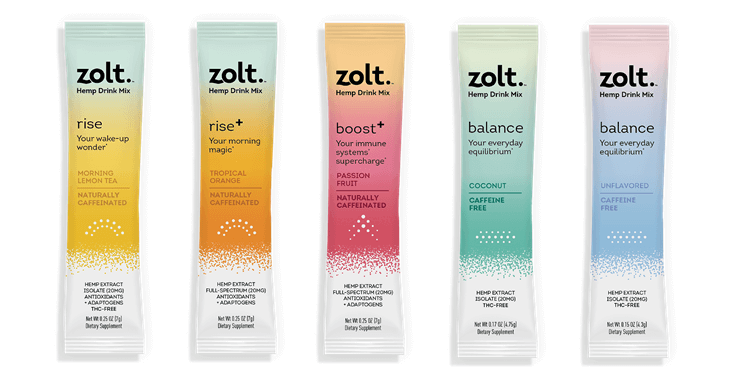 Zolt
This brand goes against the status quo with their totally new and wildly effective ingestible hemp powders. Zolt wants you to feel more grounded and balanced. Instead of pre-packaging their hemp formulations into a beverage, Zolt has developed a "mixie stick" to help us all get hemp back into our diet and give our bodies the boost we might be missing.
The more cannabinoids your body is able to access, the greater impact they will have on your mental and physical performance. That's why Zolt is formulated for maximum bioavailability and is up to five times more effective than other consumed hemp formats, like CBD tinctures. During the production process, Zolt's hemp is emulsified and atomized so that the molecules become smaller and can more easily pass through cell membranes into your bloodstream, making it easier for your body to quickly and maximally harness its benefits. At the end of any day, we all crave a deep night's sleep. Add the Zolt Dreamy honey citrus tea mixie sticks to your nightly routine and search no more. Dreamy is perfect with hot water as a tea, or over ice as a refreshing treat before bed.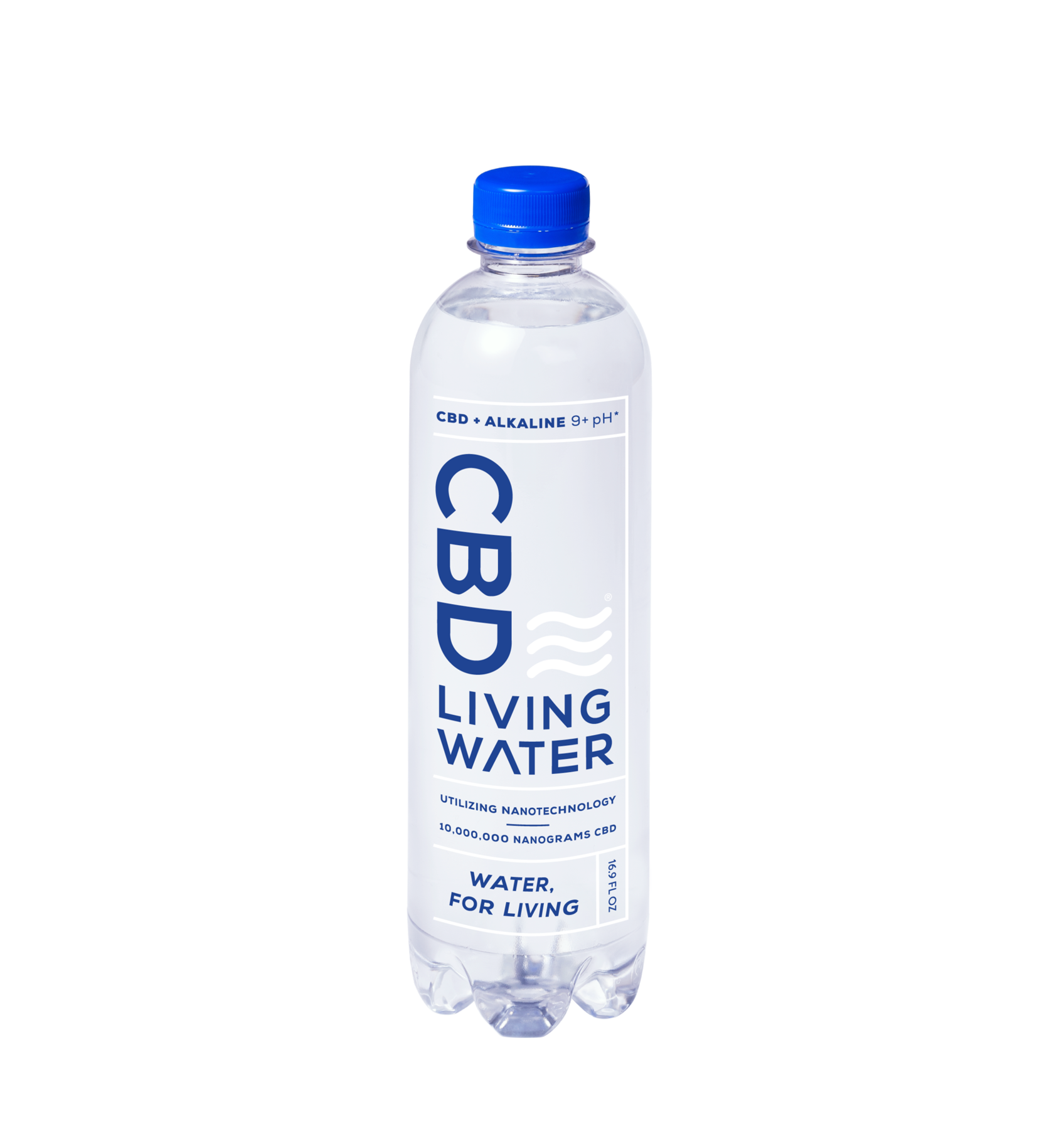 CBD Living
Sometimes you just need to hydrate and drink straight up H2O. If this sounds like you, try CBD water. While CBD Living makes water and drinks, they are also but are a leader in the CBD industry. Driven by their interest in the global hemp industry, the founders of CBD Living spent their early days lab-testing claims on other company's products. After noticing gaps between what people were advertising and the level of expertise that companies were bringing, they decided to create CBD Living to push the envelope on the science of CBD. First established in 2013, CBD Living is now sold in stores worldwide, providing people with products far superior than any other hemp-derived CBD product on the market. Their Flagship CBD water is a must for anyone looking to stay hydrated and healthy.