Inside GenCanna: The vertically integrated company with massive investment looking to set the industry standard.
This article was originally published in Issue 6 of HEMP in March 2019. Subscribe HERE or find in a local grocery store.
---
The hemp industry of 2019 is filled with opportunists, cure hawkers, and grail seekers. This makes it difficult to determine who is actually on track to manifest anything concrete, given that a good portion of the industry is concerned with proving their path is the right path. 
So, when the Kentucky heavy-hitter GenCanna Global called me in California and said they were making cutting-edge advancements that I should see, I wasn't sure if I was falling for a trick older than hemp parchment and carbon ink. I'd seen the blue helix of GenCanna's branding at conferences and read their press releases about the fancy processing partnerships they'd secured and the corporate positions they'd filled with investment bankers. From hempsters in Lexington, I'd heard the occasional comment about how GenCanna seemed shrouded in an abnormal degree of secrecy. No one was entirely sure what they were up to, out on their big campus in Winchester, in historic hemp country.
But, over two days in Kentucky during last year's harvest, I saw that the company was no empty crusade. From their vertically integrated production line to their decades-deep ties in the medical marijuana movement (and the reason why they're secretive), GenCanna was achieving responsible, regulated hemp production at a massive scale, working with the political players behind federal hemp legalization, and anticipating what it would take for them to be global trendsetters in the hemp industry.  
When, in January, GenCanna announced they'd achieved the first 0.0% THC, non-GMO hemp genetics, the headlines came rolling in. The local paper, the Lexington Herald-Leader, declared: "'Holy Grail' of hemp: Winchester company announces new genetic advancement."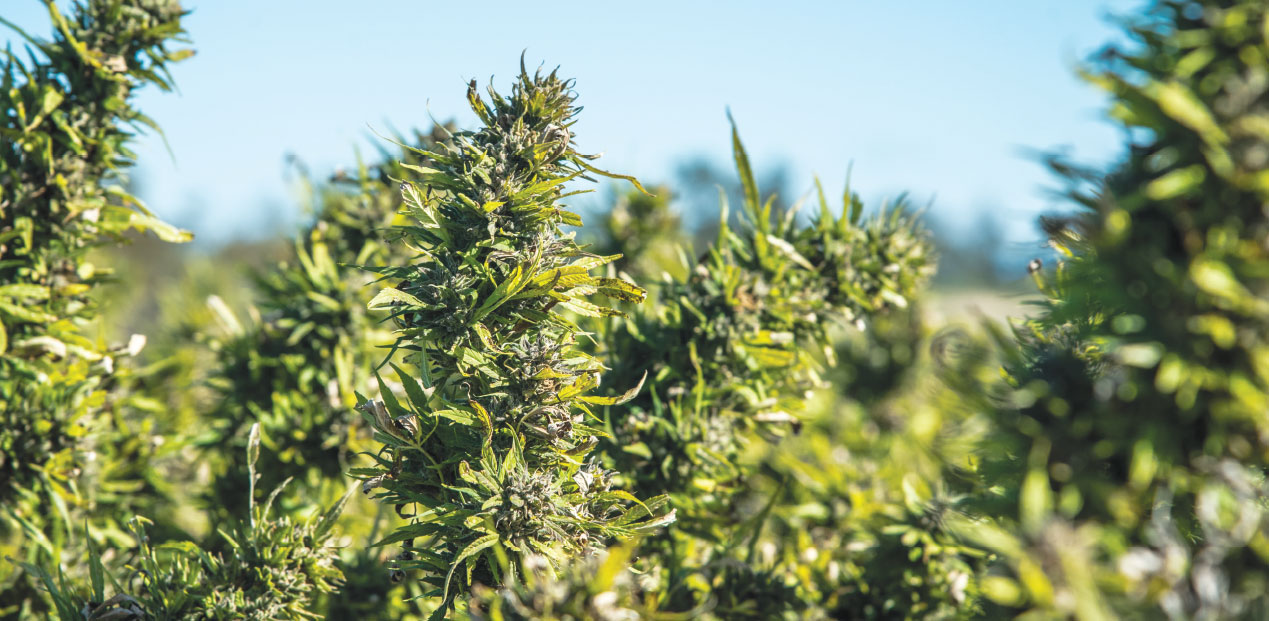 WELCOME TO BLUEGRASS COUNTRY
I landed in Lexington, Kentucky at sunset, with golden light illuminating a patchwork of bluegrass pastures, grazing horses, and white picket fences permutating in acre plots across the rolling hills. The next morning, on the drive from Lexington to GenCanna's corporate headquarters 30 minutes away in Winchester, the landscape was just as idyllic. The grass, a near-neon green, was mowed to uniform length for miles. The houses along the road all boasted pristine front porches. On the freeway, billboards for horseraces shouted about weekend specials and the radio broadcasted an advertisement to invest in High Times.
As we got closer to GenCanna's complex, the roads narrowed. Being October, the trees wept orange leaves in front of carved pumpkins. Hoop houses and silos and rows of crops — mostly tobacco, cabbage, and onions — poked out from behind the trees framing the well-paved road. 
"Moving forward, we need to make sure that the rest of the hemp industry is able to come up to compliance, so that there's more consumer trust in hemp products." — Steve Bevan
The story of this land is now almost an intra-hemp-industry cliché: In the 1800s and early 1900s, it was prime hemp growing land. Kentucky was a leading international hemp cultivating state until federal prohibition pushed the state's farmers further into the arms of the tobacco companies. But since Kentucky helped lead the push for industrial hemp in 2013, local farmers are increasingly turning back to hemp. The Bluegrass State is green again, so they say.
Out in the middle of this legendary land, GenCanna's headquarters, accented with powder blue trim, emerged. Alex Green, GenCanna's chief of staff, met me at the front door. In the lobby, a local Kentucky farmer was waiting to interview for a job. The headquarters had a good amount of open and empty space, waiting to be filled. At the time of my visit, GenCanna had 90 employees total, with 22 based in Kentucky. (Today, they have 178. They say they've brought $100 million of economic impact to Kentucky.)
"At the turn of the 20th century, 75 percent of the hemp in the U.S. was grown in Kentucky, so this is a strategic idea to be in this state, because it is likely to have the comparative advantage again," Green told me. 
In 2018, Kentucky grew 6,700 acres of hemp, just over 8 percent of the nation's total of 78,126 acres, according to the Vote Hemp 2018 crop report. The state is likely to see significantly more this year, as Kentucky's agricultural commissioner has stated over 42,000 acres of hemp have been approved in 2019.
Green came to Winchester after being recruited from a cushy New York job, as did Roberto Felipe, who is part of the company's strategic advisory group, which Green leads. Felipe, in a shearling bomber jacket and dark sunglasses, joined us at the headquarters to drive out to one of GenCanna's farms.
"Our ethos is to help the farmers farm," Felipe said, as we drove onto farmer Kenneth Anderson's land. Anderson used to grow tobacco, and he still has some hanging in a drying shed on a hill above his hemp plot.
GenCanna's farming system is relatively straightforward: The farmers own the land, and GenCanna pays them to grow the company's proprietary genetics. Throughout the growing process, GenCanna's corporate team is hands-on, tracking cannabinoid levels and testing for pesticides and moisture. 
The plants themselves are stout and sturdy CBD-producing varieties, bushy and toppling over each other in their rush out of the soil.
"This year, the data will drive the process around when we'll harvest," Green said. During the flowering stage, they tested a variety of data points each week from multiple places in the field.
Chris Stubbs, GenCanna's chief science officer, explained that his team is always pushing to bring more traditional agriculture technology into the hemp industry.   
"The reality is that hemp for CBD is a food ingredient, so we meet and exceed best practices for food and dietary supplements," Stubbs said.
Stubbs said this means making sure the growing practices and the manufacturing processes are complaint with a variety of initialisms: the FDA's Food Safety Modernization Act (FSMA), the Global Food Safety Initiative (GFSI) certification, and the FDA's Current Good Manufacturing Practices (CGMP). 
"To date, we've been reliably achieving high-quality, sustainable hemp, without any recalls or down marks on inspections. We think that establishing these 'best practices' for hemp companies is about raising the tide for all of the boats," Stubbs said. "But the reality is, we've long recognized that what we do that is special in the hemp industry isn't special in the eyes of the real federal regulators."
THE IMPORTANCE OF COMPLIANCE CONTROL
The message from GenCanna's top brass last fall was such: When the federal government legalizes (which, of course, it did), very little will actually change for the company. Not only were they meeting standards for the food and pharmaceuticals industry, they were also working with regulators to write those new regulations.
"Federal legalization is an evolutionary step for the industry, but for those of us well along the way, it's not that big of a step," said Steve Bevan, GenCanna's president. 
According to Bevan, the company has been working with regulators in Kentucky, the FDA, and the USDA — along with Senate Majority Leader Mitch McConnell — to discuss what sort of standards the industry should set. This effort is largely through the U.S. Hemp Roundtable, the industry lobby group launched in 2017 of which GenCanna was a founding member and has been highly involved. (HEMP is also a member of the Roundtable.)
"Moving forward, we need to make sure that the rest of the hemp industry is able to come up to compliance, so that there's more consumer trust in hemp products," Bevan said. "We can meet the high standards we've set for ourselves, but without the rest of the industry following along, we have no real context for what we're selling." 
GenCanna is vertically integrated because it had to be when it launched under Kentucky's pilot hemp program in 2014. 
"If we started today, we wouldn't be vertically integrated because so many people are now coming into the business and doing a great job at various different places," Bevan said. 
However, Bevan says this vertical integration has given them a unique position to understand regulatory needs up and down the supply chain. And vertical integration does make it easier for the company to be compliant, Green said, given that they're aware of what's happening to the hemp at every step of the way. 
"The consumer deserves to know where their CBD is coming from," Green said. "When you're vertical, you can let customers know."
After visiting Anderson's farm, we drove over to GenCanna's processing facility at the 150-acre Hemp Research Campus they share with Atalo Holdings, another one of Kentucky's vertically integrated hemp companies. (GenCanna recently purchased a minority stake in Atalo Holdings, and the two companies announced in December 2018 that they had formed a "hemp partnership.") 
A big part of drawing the distinction between hemp and marijuana is now possible through GenCanna's 0.0 percent THC hemp genetics.
I wasn't given much time to look around or get close to their proprietary extraction machine, dubbed "Big Blue," which comprises an entire warehouse. The machine takes the wet hemp flower straight from the field and dries it (as Kentucky air is too moist to let the buds air dry). The bud is then extracted, including through subcritical C02 extraction. 
GenCanna primarily sells bulk CBD, and provides private label products to clients. For example, in November, multi-state cannabis company MariMed announced they'd invested $30 million in GenCanna in return for GenCanna becoming its primary CBD supplier.
"We've been pretty quiet about talking about ourselves up until recently, because if you're doing this right, there's not a lot of time to talk about yourselves," Green said. "A lot of folks talk about compliance and going vertical, but few have actually done it in a meaningful way."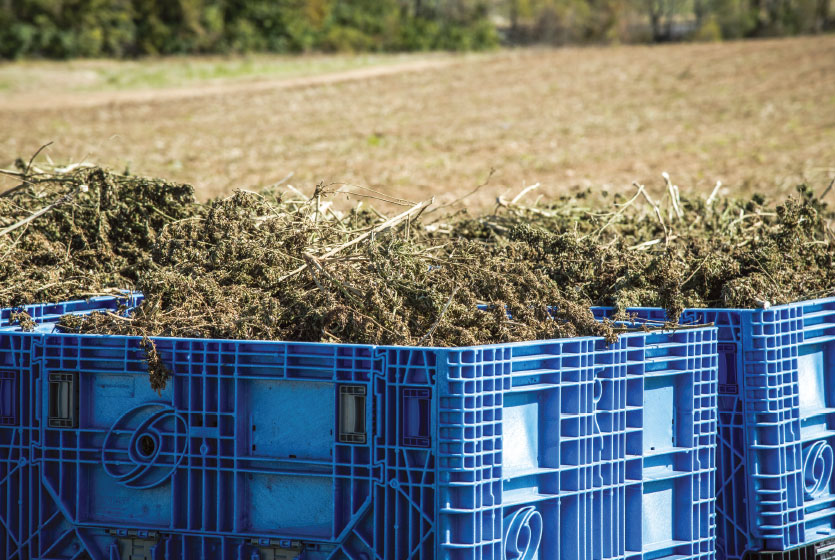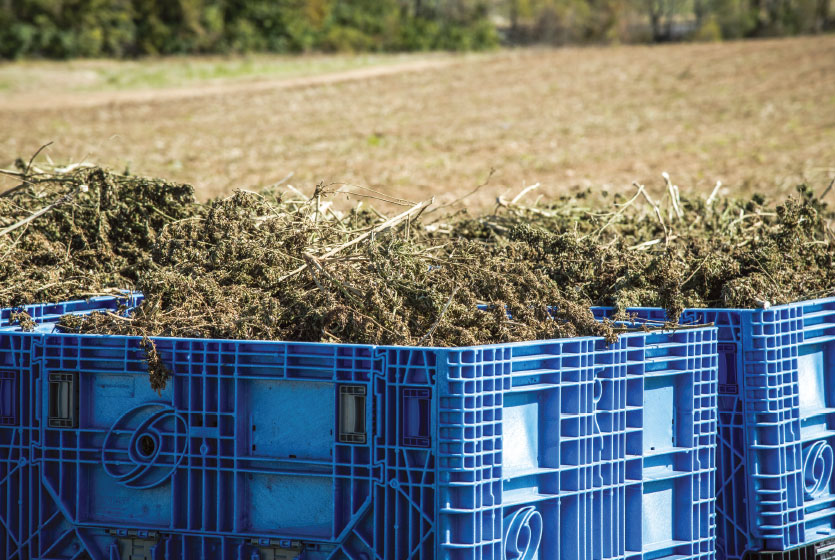 THE MAN BEHIND THE COMPANY
Back at the GenCanna headquarters, I was shuffled into a conference room while I waited to meet with Matty Mangone-Miranda, the company's CEO. By this point, I was wary about who was behind this operation. In all honesty, the corporate culture and scale of the company was daunting. The company's employees seemed focused on dominating the hemp industry, and with their investment money and their connections leading all the way up to McConnell, I was unsure whether or not the company was interested in being a benevolent leader. 
When I finally met Mangone-Miranda, a stocky, middle-aged man in a zip-up jacket with the fatigued eyes of someone who'd been working late for years, he gave me an overview of his career and the company's obsession with regulations started to make sense. 
In the 1990s, Mangone-Miranda started working in the medical marijuana industry in California under Proposition 215. But he said it was like "spinning wheels" given the quasi-legal nature of California's market, so in 2009, he moved to Colorado when he got a sense that it was heading towards legalized adult-use cannabis. There, he partnered with Josh Stanley (related to the now renowned Stanley Brothers) in the dispensary business and worked on lobbying the state on a series of bills that set up the state's new adult-use laws.
"We had our main flagship store, a doctor's office, and clinic where we were doing lobbying and donating flower and oil to sick folks," Mangone-Miranda said. "We explained to the state about how you want to have vertical integration so that you can have control over the quality and product leaving the state. For people who have been looking at this as medicine for decades, you really have to be mindful."
Mangone-Miranda was one of the first founders of the Charlotte's Web movement, working on a number of ventures with Josh Stanley and the Stanley Brothers. It was Chris Stubbs who met Charlotte Figi, a young girl suffering from a rare form of epilepsy, and brought her family to the Stanley Brothers, where he created the formulation and safety profile on the medicine (before going on to serve as GenCanna's chief science officer). The subsequent 2013 CNN documentary about Figi and the Stanley Brothers was pivotal in bringing the idea of medical marijuana to the mainstream.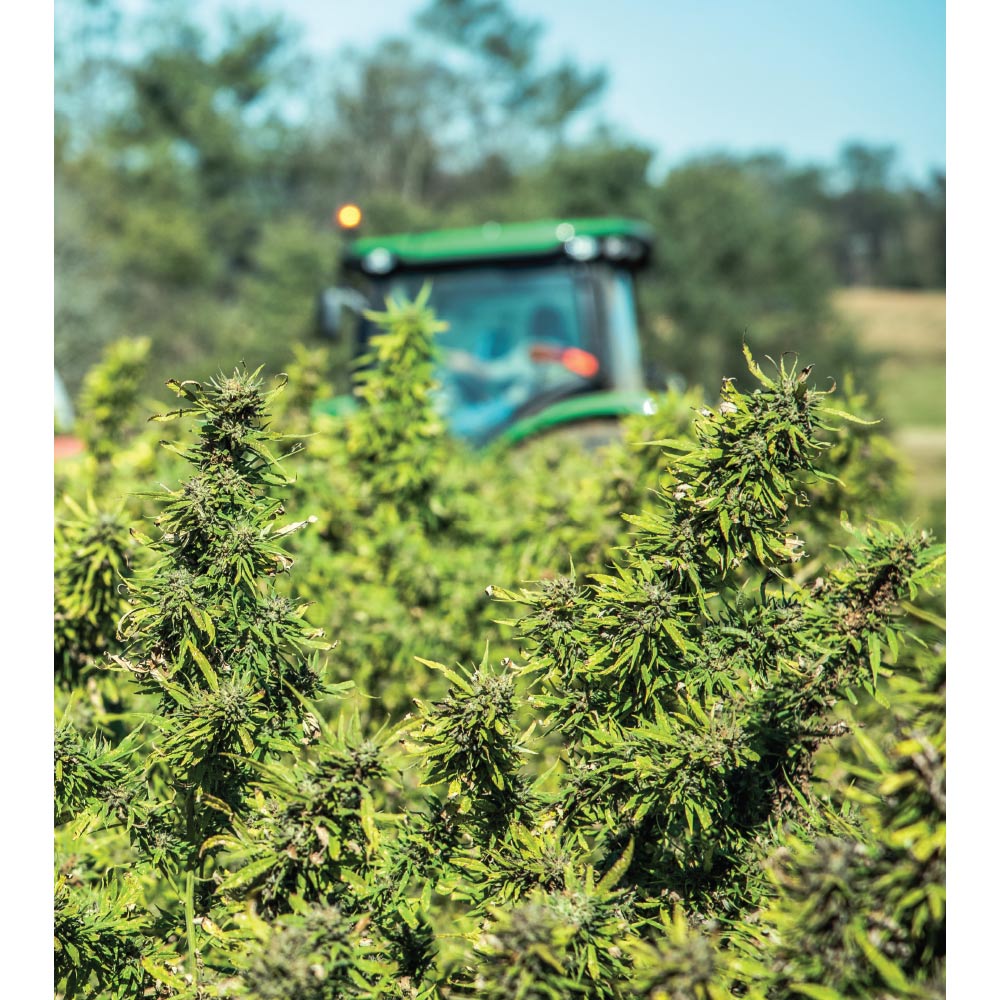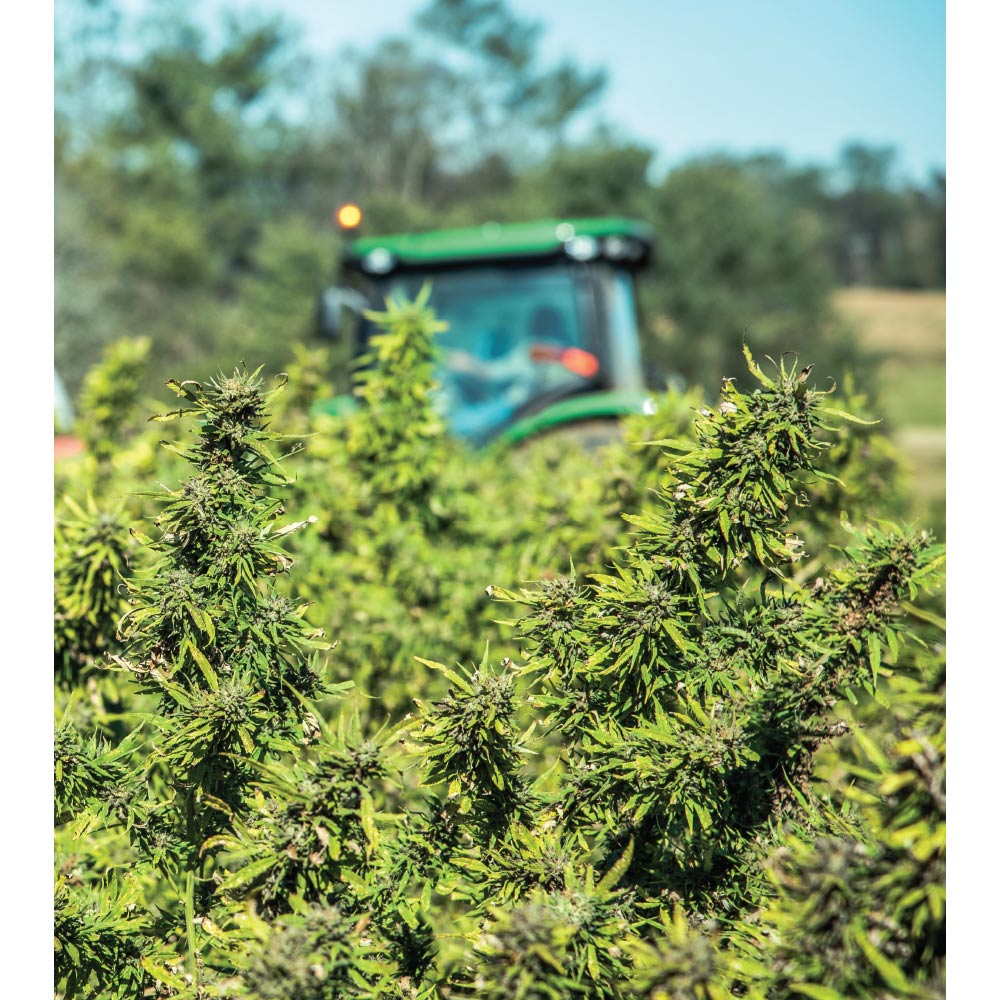 "I look at the CNN documentary as the B.C./A.D. moment for the industry," Mangone-Miranda said. Charlotte's Web was originally made from cannabis with more than 0.3 percent THC, and he said, the "real smart sleight of hand we did — which led us to Kentucky — was to say that Charlotte's Web could be grown as hemp."
"We knew CBD was real, we believed in cannabis, but what was evident to us was that we realized we didn't have the infrastructure to meet the need," he said. 
In 2012, Mangone-Miranda was considering making the move into the global cannabis game via Jamaica. At the same time that his team was traveling to Jamaica, he took a last-minute flight to Kentucky and decided that the future was in Kentucky hemp. He had been married to a woman from Kentuckiana, Barbara Filburn-Miranda, who now works for GenCanna, and he'd been visiting the state for years.
"I envisioned the perfect hemp state and Kentucky was a perfect storm: tobacco waning, the Farm Bill coming up," he said. "I wanted to move outside of the confines of medical marijuana because I think it's bad for the marijuana industry's image."
Mangone-Miranda explained that he saw legal hemp as an opportunity to build the cannabis industry anew, but leaving behind the legal convolution of medical marijuana and instead modeling it after more mainstream industries.
"The medical marijuana model is a failed model, and I know I helped build it, but it's a failed model," he said, citing large taxes and burdensome regulations. "We could be growing hemp in the dirt out under the sun. We're growing a few million plants right now, and you can't accomplish that outside of a traditional agricultural model."
Since GenCanna established itself in 2014, it's been working towards this traditional model. In their first year, they acclimated their genetics to the new climate, experimenting on that bottom level of the supply chain. In 2015, they harvested 100 acres of biomass and worked on improving their processing facility. They continued to refine their practices over the subsequent years, moving up the supply chain and building their "industry IQ," as Mangone-Miranda puts it. Now, they're building their farming network in different states and opening a new $40 million processing plant in western Kentucky.
"In Kentucky, we've taken these years of learning about greenhouses, and extraction, and refining, and genetics. Now we really truly understand them well, and we're trying to implement [that understanding] here at the highest level."
Mangone-Miranda said that only now, after four years of work, does he feel ready to announce what the company's been up to. 
"We're going to launch the business when we can launch it right," he said. The Charlotte's Web/CNN experience, he explained, was a lesson in the dangers of getting public attention too quickly, before they were ready. 
"In Kentucky, we've taken these years of learning about greenhouses, and extraction, and refining, and genetics," he said. "Now we really truly understand them well, and we're trying to implement [that understanding] here at the highest level."
KENTUCKY HEMP IN 2019
In February, Kentucky's agricultural commissioner Ryan Quarles told a group of hemp farmers in Madison County, Kentucky that he'd approved nearly 4,200 applications for farmers to grow up to 42,086 acres of hemp in 2019, according to the Richmond Register. Of those 42,000 acres of hemp, 20,000 acres are allotted to GenCanna and Atalo.
Quarles told the farmers that he was going to Washington, D.C. to talk to politicians and regulators, "making sure that they understand what hemp is, and, more importantly, what hemp is not."
A big part of drawing that distinction is now possible through GenCanna's THC-free hemp genetics. Quarles was present in January, when GenCanna made the announcement that they had — in partnership with the University of Kentucky's College of Agriculture — developed non-GMO hemp genetics that reliably produced zero percent THC and retained high CBD levels. 
"It could be a revolutionary game-changer to industrial hemp production," Quarles said at the time.
When I was visiting GenCanna in October, three months before they announced the development of the THC-free hemp, every employee I spoke with referenced the revolutions brewing behind the scenes. They all spoke of the long hours they were working, the wide scope of the plans they were pursuing. I wondered, as I flew home from Lexington, whether I had been wrong to question if GenCanna was one of the hemp holy grail chasers. Today, knowing that THC-free hemp genetics were one of the secret projects GenCanna promised I'd hear about soon — and that they've actually achieved it — I don't think they are. Is it really a holy grail if it can be obtained?