A Brooklyn small batch roaster has begun offering New York coffee drinkers a bottled cold brew with CBD to take the edge off the buzz. The new coffee, Superlost CBD Cold Brew from Superlost Coffee in Bushwick, is now available at more than 50 markets in Brooklyn and Manhattan and restaurants including Roberta's Pizza.
This newest product is yet another in a long line of CBD coffee drinks, especially in New York City, where the cannabinoid has become increasingly ubiquitous in coffee shops. Given that New York state only has a restrictive medical marijuana program, the nationwide hype around CBD has manifested in the Empire State primarily through hemp-derived CBD products.
Craig Deahl and David Roa, co-founders of Superlost Coffee, told HEMP that they had noticed last year that many coffee shops in the New York area were offering CBD as an add-in for their drinks. Around the same time, the company's new cold brew was gaining in popularity, but some customers thought the drink had too much caffeine and was making them jittery.
"Maybe there's something we can explore that could maybe address that," Deahl said. "And CBD just fit like a puzzle piece. This is something that can completely counteract the negative effects of over-caffeination and bring a refreshing harmony to your morning. You have alertness and mind wakefulness, but you don't have anxiety or jitters."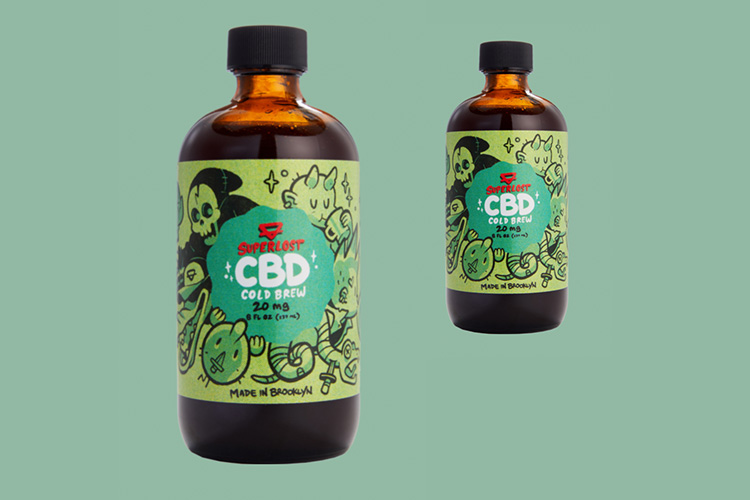 Roa said that they had personal experience with CBD and had found they were benefitting from the cannabinoid. "Craig has been taking CBD for some time now, so he knew the effects and how it was beneficial for him," Roa said. "And so, we saw, basically, the market demanding it, we ourselves were consumers of it as well already, so we thought it would just be a natural fit."
Deahl and Roa went to work in the test kitchen, trying different forms and dosages of CBD derived from hemp. They decided on a 20-milligram dose of CBD in a single-serving 8-ounce bottle. As the partners were completing their research and development late last year, news of hemp's potential legalization in the 2018 Farm Bill encouraged their efforts. After the bill was signed by President Trump on December 20, they put the new beverage into production.
The beans used for the Superlost CBD cold brew were grown by a small coffee farming co-op in Tolima, Colombia. The bottle label was designed by art director and cartoonist Levi Prewitt. Superlost commissions local artists to design its label art, which is screen printed by hand onto bags of roasted beans. To support local art and good practices in coffee production, proceeds of each batch are shared with the farmers that grew the beans and the artist that designed the label.
Since the company began in 2017, Superlost Coffee has sold more than 10,000 bottles of its original cold brew coffee and its products are now available in 180 supermarkets, cafes, and restaurants. The CBD cold brew is currently being delivered within New York, with plans to ship to other states pending the creation of hemp and CBD regulations.
Roa said in a press release that their new CBD cold brew delivers a new kind of caffeine boost in a convenient take-along form.
"We are true believers in bringing harmony to your day through clarity of mind," said Roa. "As New Yorkers, many of us need something that can keep us focused, but also at ease. Our new CBD cold brew does just that."