Step away from that traditional shaker bottle of parmesan cheese and give this dairy-free, nut-free alternative a try.
---
Vegan parmesan cheese is not a new concept. The salty substitute can be found in health food stores or made at home using a few simple ingredients. So, what makes this recipe different? It's all in the (hemp) seeds.
Most of the vegan parm recipes you'll find are a mixture of three basic ingredients: nuts, sea salt, and nutritional yeast. Coming from a family with numerous nut allergies, those run-of-the-mill parmesan recipes were not an option for me. That's where the humble hemp seed came into play. Not only did the swap of hemp for nuts remove the allergy risk, it added a whole host of vitamins, minerals, and essential amino acids. The result is a salty, cheesy seasoning that is dairy-free, vegan, and great for those with a nut allergy.
Talk about a multitasking topping!
Nutritional Yeast & Hemp
Like hemp seeds, nutritional yeast is a commonly used ingredient in vegan cooking because of its unique nutrient profile and high levels of B-12, protein, and other minerals. Put the two together and you have a powerhouse of protein that is a dead ringer for cheese. Vegan or not, you may never want traditional parmesan cheese again.
Shake, Sprinkle, & Crumble
Use this incredibly simple seasoning to top everything from pasta to popcorn. It's the perfect cheesy addition to garlic bread, pizza, or sprinkled over cooked veggies, all while adding protein, B-12, and omega 3 fatty acids.
The traditional mixture of hemp seeds, nutritional yeast, and sea salt is a winning combo for any dish but if you are feeling adventurous, try adding a few dried herbs. A pinch of rosemary, garlic, and thyme is perfect for giving your popcorn a little pep. Try it with a hint of dried oregano and basil to fill out the flavor of your standard pasta dish!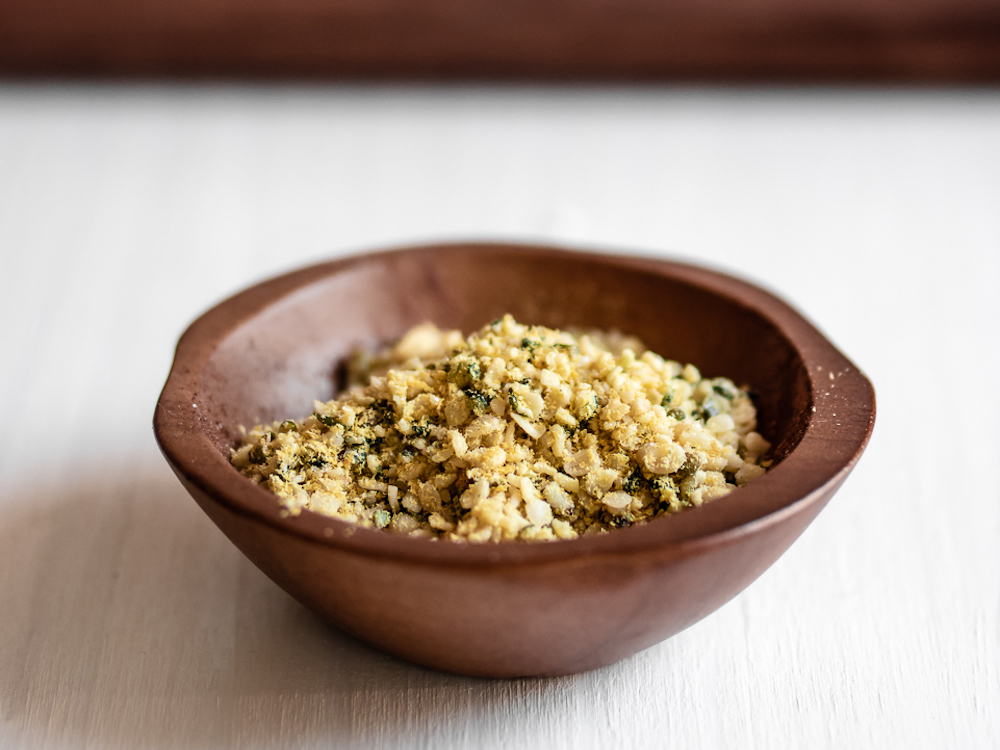 Ingredients
½ cup hulled hemp hearts
2-4 tbsp nutritional yeast
½ tsp fine sea salt
*Optional Add-ons
½ tsp dried herbs like sage, thyme, garlic, basil, or crushed rosemary
Instructions
Pulse all ingredients in a food processor until desired consistency.
Store in an airtight container and refrigerate for up to 6 months.
Liz Schoch is a nutritionist who runs the Inspector Gorgeous blog, where she creates plant-based, low-sugar recipes at inspectorgorgeous.com.