There are quite a few US-based hemp groups out there. With no effective oversight governing the veracity of claims or the responsibilities of the organizations themselves, it's debatable how much impact each one really has, or who's making their voice heard over the din. Despite some confusion at ground level, there is fundamentally no question which hemp organization is quietly, consistently achieving measurable results.
The National Hemp Association (NHA), based in Washington, DC, is celebrating its tenth anniversary this year. From nutrition to construction, hemp has become the jack-of-all-trades in the world of sustainable materials, and the NHA has been leading the charge. During an eventful first decade the NHA has been blazing a trail in the hemp industry, operating on the thesis that there's nothing this super-crop can't do, and all that's holding the industry back is regulation and lack of education across the board. Perhaps most important, they have been tirelessly advocating in Washington to redraw regulatory boundaries and give this market an opportunity to grow. From working directly with multiple administrations to presenting meaningful legislation to congress, there is no other hemp organization that stands as the trusted voice for the industry in DC.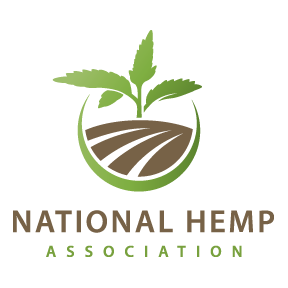 In 2014, the NHA helped to champion hemp in the US Farm Bill, with a special focus on Section 7606 of the act, "Legitimacy of Industrial Hemp Research," known in the industry for legalizing hemp cultivation for research purposes in the United States. But as usual, they didn't pause to rest on their laurels. They immediately helped groups form hemp councils and then worked to pass legislation in several states.  In 2018, the Farm Bill was updated to include the Industrial Hemp Farming Act of 2018 legalizing hemp cultivation nationally, removing hemp from the Controlled Substances Act — a major barrier to advancing the research called for in the 2014 Farm Bill.  The NHA also advocated for Tribal Councils and Territories to participate in the opportunity to grow hemp. Each of these steps together constitute a leap forward in the advancement of industrial hemp for commercial purposes in the US.
The NHA seems to pride itself in celebrating results rather than championing plans, ideas, and hypotheticals. That philosophy comes from NHA Chair Geoff Whaling who has led the organization for the last six years.  On March 23, 2023, the NHA and their partners celebrated a huge success with the introduction of the Industrial Hemp Act of 2023 in the US Senate after more than 16 months of advocacy by NHA Executive Director Erica Stark, Agricultural Hemp Solutions Chief Legislative Strategist Courtney Moran, and IND Hemp CEO Morgan Elliott Tweet. U.S. Senators Jon Tester (D-MT) and Mike Braun (R-IN) introduced the Act, designed to break down barriers for farmers interested in participating in the fiber and grain hemp industry. It's currently a stand-alone bill, for which a House companion bill will need to be written and passed so to get it to the President's desk. NHA is leading all stages of this process.
While hemp has been growing in the United States for the last nine years, the regulatory burden and risk still don't justify the return for most farmers. NHA's view is when fiber or grain (seed) are the only intended harvested materials, there is no rationale that justifies burdening American farmers with background checks or costly sampling and testing protocols. While the end-use products that result from industrial hemp production have always been exempt from the Controlled Substances Act, under current U.S. Department of Agriculture (USDA) rules, all hemp crops are subject to a compliance test. Under the new Industrial Hemp Act of 2023, industrial hemp farms would still be subject to review to ensure that farmers are meeting strict compliance standards but would not be required to undergo background checks and testing protocols. Producers who violate these rules would be barred from participating in the hemp program for five years.
The Industrial Hemp Act of 2023 removes barriers and provides an opportunity to develop a robust domestic supply chain and market, de-risking investment and opening the doors to industry growth even wider.
"Montana farmers don't need government bureaucrats putting unnecessary burdens on their operations," said Senator Tester. "It's time we cut red tape, and make it easier for industrial hemp farmers to get their product to market. My bipartisan bill builds on Montana's leadership on hemp policy and creates good-paying jobs for folks across rural America."
US Senators Jon Tester (D-Mont.) and Mike Braun (R-Ind.) introduced the bipartisan legislation. "It's important that we set American farmers up for success by cutting burdensome regulations and red tape," said Senator Braun. "This legislation will expand opportunities for industrial hemp producers in Indiana and across the country and allow them to tap into one of the fastest growing agricultural markets."
NHA is also advocating for several crucial changes to be included in the 2023 Farm Bill which directly impact the regulation of industrial hemp. Among the top priorities — in the event the bill does not pass as a stand-alone legislation — is inclusion of the Industrial Hemp Act of 2023 language into the Farm Bill. This will ensure that one way or another the defining language that will de-risk the industry becomes the law of the land this year.
Additionally, the NHA is requesting that the FDA adopt a 1958 Food Additive Petition exclusion, which would allow the use of hemp seed, hemp seedcake and hempseed oil as animal feed ingredients for domestic animals, including companion, exotic, equine, and other non-production animals.
It's the NHA's view the FDA should also be directed to publish clear and reasonable regulations within a specific time period for CBD and all hemp-derived cannabinoids, or be given specific legislative language to guide the implementation of such regulations. NHA supports increasing THC levels to 1%.
Perhaps most important, the NHA is working to bring much-needed investment capital to the industry by advocating in DC for a "whole of government approach." What this means is supporting federal and state inter-agency understanding and implementation of new laws and regulations regarding hemp for fiber and grain to ease access to banks and financial services, and give comfort to private and institutional investors who might otherwise be wary of an unregulated sector.
The NHA's far-ranging work doesn't stop with legislation and regulations. Since 2013 they've been champions for startups and businesses in the sector, providing resources, education, and support to help entrepreneurs navigate the wild west of the hemp industry. They've even organized and partnered with international groups to help other countries adopt their own regulatory frameworks, spreading the love and potential of hemp around the globe.
The NHA is the opposite of "all talk" — they really "walk the walk."  They've invested in research projects, providing funding and resources to push the limits of what this versatile natural resource can do. Who knows what kind of incredible inventions and word-changing discoveries we'll see next? Hemp bio-composites in urban transportation infrastructure? Hemp in spacecraft and satellites? The possibilities are endless.
It seems the NHA never rests. Fresh off one success they're busy building strategies and relationships to achieve the next. If you're looking for a group of hemp-loving, regulation-writing, startup-supporting, research-funding trailblazers, look no further than the National Hemp Association. They're the go-to national industry voice for hemp, making real impact behind the scenes — and they're always looking for more members to join the movement!