How the state is setting the standard for industrial hemp production in the U.S.
---
If you stroll through the streets of La Junta, Colorado, it will appear, in many ways, to be the cliché of an American western town. Sagebrush and farms surround the small, high-desert city of 7,000, and the La Junta downtown retains the brick-and-stone storefront facades that prove there once was money and booming construction here, but somewhere along the way, that capital dried up like soil in late summer.
Ten years ago, travelling out in the arid countryside along the banks of the Arkansas River, the only farms you'd have seen along the way were growing produce like melons, tomatoes and chilis, with hardworking farmers toiling at the land to make what living they could. Some farms were more successful than others. Like much of rural, agricultural America, more were flirting with the poverty line than we'd like to admit.
And while not much has drastically changed within the city of La Junta, on the dusty plains outside the city, the landscape, agriculture and economics are currently entering a new era. While growing traditional agricultural products still dominates acreage in the region, increasingly the neat rows of produce are being replaced with another cash crop, which a decade ago would have been inconceivable, not to mention illegal. In the flat expanses of the Great Plains, with the Rockies distant in the background, the neat little rows of green now poking out of the earth are a more lucrative crop: hemp.

Investing in Colorado's rural communities
The farms growing hemp outside of La Junta are raising their crop for Folium Biosciences, which claims to be the largest vertically integrated producer, manufacturer and distributor of hemp-derived phytocannabinoids in the U.S. The company maintains a 70,000-square-foot processing plant in La Junta (the plant is a former Walmart, for the sake of size comparison), adding more jobs and money to the local economy. The La Junta plant couples with Folium's new 50,000-square-foot facility in Colorado Springs, where the purification and extraction processes are handled.
In many ways, Folium is presenting a blueprint in Colorado for the production and distribution of hemp nationally.
"The way we're doing vertical integration… we're not seeing anyone else doing it. The other companies are using third parties. We don't rely on anyone except farmers, who we provide genetics for and guarantee a price to," says Ryan Lewis, chief marketing officer for Folium. "We harvest, transport and process. Farmers just have to grow the crop with the plants that we supply. It's part of our larger strategy moving forward, to help farmers and transform impoverished farming communities."
How Colorado is outpacing the nation
If La Junta was the cliché of the American West with its nostalgic downtown and farming-based economy before, it's now flirting with becoming Colorado's new version of the rural normal. Since the passage of Section 7606 of the 2014 Farm Bill, which allowed for the cultivation of industrial hemp in the United States for the first time in decades, Colorado — more than any other state — has moved quickly to capitalize on the newly legalized industry.
In 2017, 19 states reported acreage specified for growing industrial hemp, and Colorado's production dwarfs that of other states. According to Vote Hemp, a Vermont-based nonprofit hemp advocacy group, in 2017, Colorado farmers accounted for over 31 percent of all of the acreage planted for hemp in the entire nation. As of November 2017, over 500 hemp farmers were registered through the Colorado Department of Agriculture.
"We've seen hemp cultivation significantly expand in the U.S. in 2017, with over double the number of acres planted in hemp compared to last year and the addition of four more states with hemp pilot programs," said Eric Streenstra, president of Vote Hemp.
This growth has been driven largely by the exploding worldwide market for CBD-derived products. CBD sales more than tripled between 2014 and 2017, from $108.1 million to $358.4 million, according to the Hemp Business Journal's mid-2017 report. By 2022, the CBD industry is expected to surpass $1.8 billion in sales. So far, production of hemp-derived CDB is lagging behind demand, meaning that the full size of the potential market remains unknown.
Becoming a global exporter
In 2017, Folium contracted Colorado farmers to grow just over 1,000 acres of hemp out of the state's total of 7,500 acres, which accounts for over 13 percent of Colorado's total hemp production. Like almost all producers and processors of industrial hemp in the U.S., the hemp grown by Folium-contracted farmers is produced for its cannabinoids, rather than industrial applications like paper or fiber. The phytocannabinoid-rich hemp that Folium is growing and processing, like other U.S.-based hemp producers, is finding a market not just in the U.S., but around the world.
It's an odd quirk, because while industrial hemp cultivation had been illegal in the U.S. for decades, in much of the rest of the world, the industry continued largely uninterrupted. So, why are American companies leading an international market where they should be experientially, if not technically, behind?
"It's because our hemp contains more phytocannabinoids, so we're able to break into the market," says Lewis. "The rest of the world is mostly growing for fiber, where phytocannabinoids are basically just a small biproduct. They're using a plant that is primarily used for clothing and fiber, which is only lucrative when undertaken on a massive scale. In the U.S., we're growing plants that are largely considered for their phytocannabinoid potency."
Colorado is leading, but other states are taking notice
Colorado's burgeoning industry has been aided by the legalization of marijuana in 2014. Because Colorado growers, processors and distributors had a head-start working out some of the kinks — which are considerable for a newly legalized industry — the conceptual framework for the transition to industrial hemp cultivation had already put in place. The technological requirements for cannabinoid extraction are more involved than those for most medicinal or recreational THC-based cannabis, but many of the hurdles related to finance and distribution have already been considered.
"CBD by itself is relatively weak. You need all of the terpenoids and secondary cannabinoids to achieve sustained relief in your body." – Ryan Lewis
However, perhaps surprisingly, when you consider the 19 states that are already cultivating industrial hemp, there appears to be no uniformity when it comes to the marijuana-friendliness of each state. Whether states are considering new research when it comes to the possible health benefits of cannabinoids or are looking to boost state treasuries still not fully recovered from the Great Recession isn't fully clear. What is clear, is that more states are looking at the industry and asking: Why not us?
According to Lewis, "We've recently been asked to present in front of the legislatures in Utah and Kansas. They want to better understand the opportunity and process and want help as they write legislation for legalizing hemp cultivation in their states."
With or without government research, the industry will grow
With demand soaring, cultivation ramping up and more states embracing the industry, it seems only a matter of time before more standard, traditional companies jump in and invest in the industry. As the benefits of cannabinoids become more well-known (to both current enthusiasts and the public at-large) and further studied, the potential applications will grow alongside the market.
Whether the federal government will begin full-scale research into possible benefits and applications of cannabinoids remains to be seen. But public knowledge about how they're helping transform people's lives is growing, creating an exploding market. Still, according to Lewis, we're just beginning to realize the potential.
"Currently, 99 percent of the companies are selling CBD isolate, the process of which strips out all of the synergistic compounds," says Lewis. "CBD by itself is relatively weak. You need all of the terpenoids and secondary cannabinoids to achieve sustained relief in your body."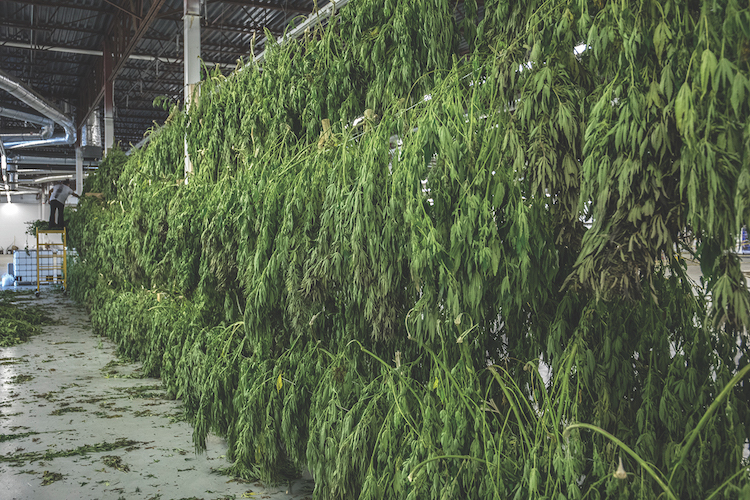 Folium extracts the full spectrum of cannabinoids from their hemp, because they say are all necessary to support the healing qualities of CBD.
"We believe as a company that phytocannabinoids are essential nutrients that have been removed from our supply and food chain, which has caused an inadvertent deficiency that is related to a myriad of diseases we're seeing proliferated today," says Lewis. "Once more people realize that, cannabinoids will become ubiquitous as a product and ingredient."
For Colorado's farming communities, the future is now
If — and realistically, it appears more to be a question of when — the general public embraces hemp oil, the fields surrounding small farming communities like La Junta, in Colorado and elsewhere, will increasingly be planted with hemp.
And when that day comes, if the recent past and present are any indicator, Colorado will likely be at the forefront of all aspects of the industry, from growing and extraction technology to applications and delivery methods, just as they are today.
Originally published in HEMP's Issue 2. SUBSCRIBE HERE.