Hemp gets a holiday makeover and a place at the dessert table in this nutrient-dense twist on a classic.
Photos and Recipe by Liz Schoch, Inspector Gorgeous
Originally published in Issue 5 of HEMP, which is arriving on newsstands now! Subscribe HERE or find it in a local grocery store. 
---
Traditionally, pumpkin pie embodies the pinnacle of fall flavors, highlighting the season's sweetest variety of squash. A tender, baked crust filled with creamy, spiced pumpkin may seem hard to improve upon, but this recipe does just that. Think pumpkin pie meets streusel with a sprinkling of nutty hemp hearts!
Let's take this recipe apart piece by piece to understand the different flavors and textures that make it anything but a simple slice of pie.
First, both the crust and crumble are mixtures of almond meal (also known as almond flour), butter, and sweetener. The result is a tender crust that mimics wheat flour, only it's a lot less work.
Next, pecans and hemp hearts turn that basic almond flour formula into a crumble topping. Hemp hearts add a unique nutty flavor that pairs perfectly with the pumpkin filling. Better yet, there's no sweetened condensed milk, just a little mascarpone cheese, so this pie sets up nicely without dulling any of the pure pumpkin flavor.
Why add hemp? Small but mighty, the seeds bring a hefty dose of amino acids, healthy fats, and a long list of micronutrients. Hemp is a simple and flavorful way to add a superfood ingredient without sacrificing taste.
And hemp is versatile, too! Swap out the brown sugar for a drizzle of honey and make this crumble a tasty topping for yogurt, or add an extra scoop of hemp hearts for a midday snack. How's that for a multitasking holiday recipe?
One last note before we get baking: This recipe contains no wheat flour, but feel free to use your favorite pie crust recipe in its place. Or, if you're seriously short on time, bake the crumble and add it to a cheater's (store bought!) pumpkin pie and keep it between us.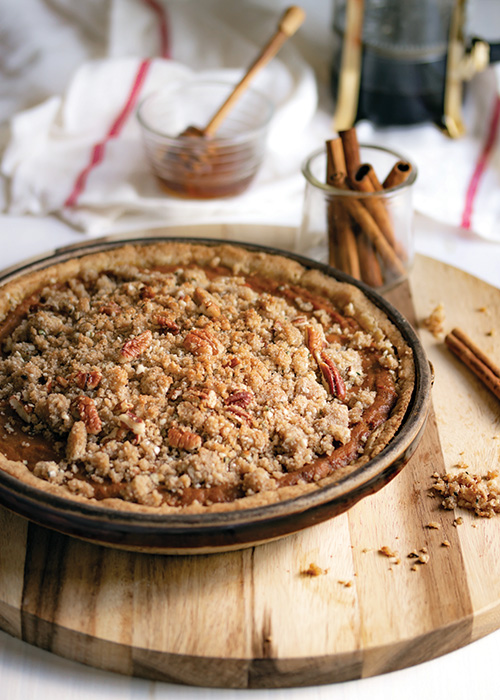 Pecan & Hemp Pumpkin Crumble Pie
Ingredients – Makes 1 pie
For the shortbread crust
1 ½ cups almond flour
2 tbsp granulated sugar*
1/8 tsp salt
3 tbsp butter
1 egg
For the filling
4 oz mascarpone cheese, or cream cheese, room temperature
½ cup granulated sugar*
½ tsp vanilla
15 oz canned pumpkin puree
2 eggs, beaten
1 tsp pumpkin pie spice
½ tsp ground cinnamon
For the crumble
¾ cup almond flour
¼ cup brown sugar*
¼ cup hemp hearts
½ cup chopped pecans
¼ tsp salt
4 tbsp butter
*To reduce the grams of sugar in this recipe, feel free to use your favorite granulated sugar substitute.
Directions
To prepare the crust
In a mixing bowl, whisk together the almond flour, salt, and sweetener.
Cut in the cold butter with a fork or pastry cutter until the mixture resembles sand.
Mix in the beaten egg to form the dough.
Press the pie dough into a 9-inch pie pan, extending it up the edges of the dish. Use a piece of waxed paper to smooth the crust with your hands, removing any uneven areas.
Bake at 350° Fahrenheit for 10 minutes until lightly browned. Remove from oven and cool.
To prepare the crumble
Like the crust, whisk the dry crumble ingredients together, then cut in the cold butter with a fork. The butter pieces should be pebble-sized and even throughout.
Pile the mixture onto a parchment-lined baking sheet and bake at 350° Fahrenheitfor 10 minutes. Allow to cool while you prepare the filling.
To prepare the filling
Beat the mascarpone or cream cheese and sugar with a hand mixer until smooth.
Add the pumpkin puree and spices and continue to mix until the cream is fully incorporated, followed by the beaten egg.
Once the filling is smooth, scoop into the cooled crust and tent the edges of the crust with foil to prevent overbrowning.
Bake at 350° Fahrenheit for 45 minutes, just until the pie is set.
Remove from the oven and top with the prepared hemp crumble. Bake for an additional 10 minutes.
Let the pie cool completely to set before serving and enjoy!
Liz Schoch is a nutritionist who runs the Inspector Gorgeous blog, where she creates plant-based, low-sugar recipes at inspectorgorgeous.com.