At HEMP, we are lucky enough to test out the new and exciting products that are constantly launching in the industry. This holiday season, we have curated a gift guide including our top 10 favorite hemp and CBD products to share with you. We hope you enjoy!

1) CAASI CBD Gift Bag Bundle – $120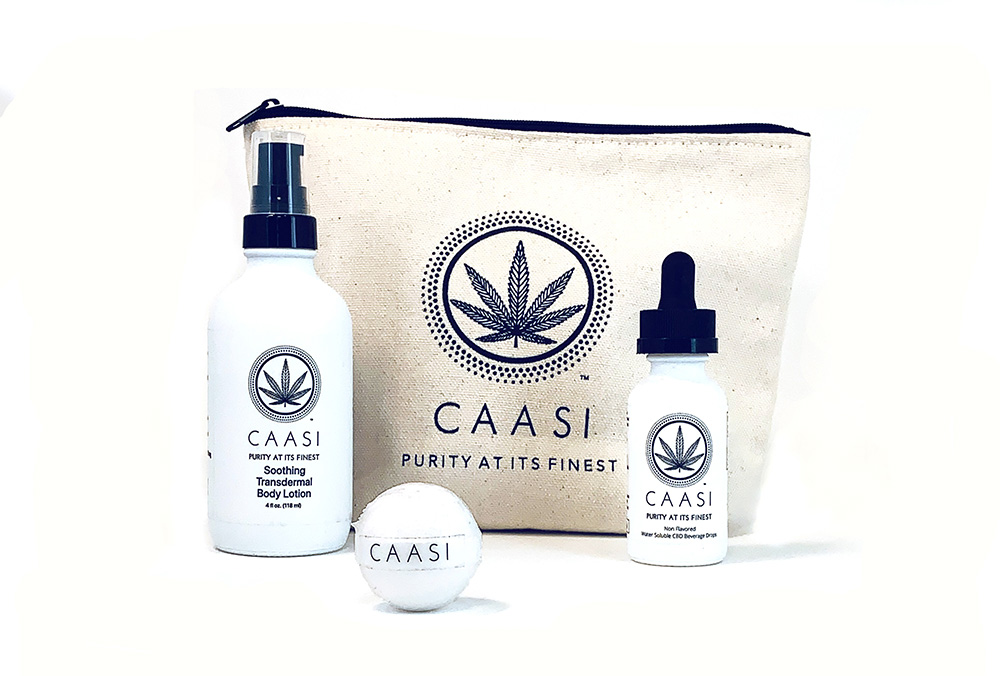 CAASI has put together the perfect holiday gift bundle for those looking to try some new and unique CBD products. This package includes their classic beverage drops, new body lotion, and a bath bomb, all wrapped up in a logo zipper bag.
CAASI's beverage drops are mild in taste, and isolate-based, so they are completely THC-free. With 30mg per serving, these drops provide a solid dose of CBD and are easy to add to your favorite food or beverage.
Their new transdermal lotion contains anti-inflammatory ingredients such as arnica, geranium, oakmoss, juniper berry and frankincense. This product is menthol-free and contains a solid 700mg of full-spectrum CBD per 4 oz bottle.
CAASI's CBD bath bomb truly completes the perfect recipe for relaxation this holiday season. A calming lavender scent and 25mg of broad-spectrum CBD will leave you feeling fresh and festive.
2) Abeego Wraps – $18.00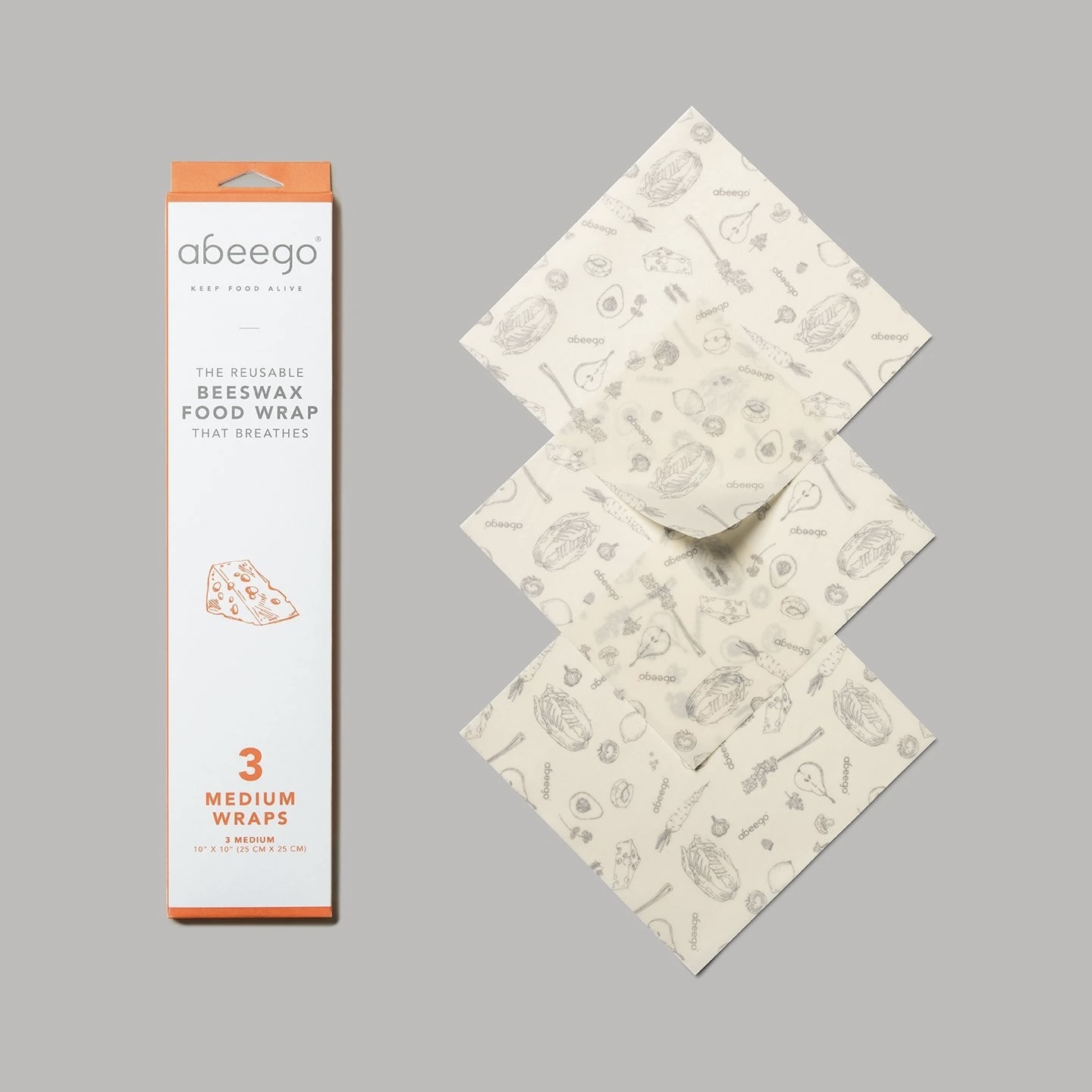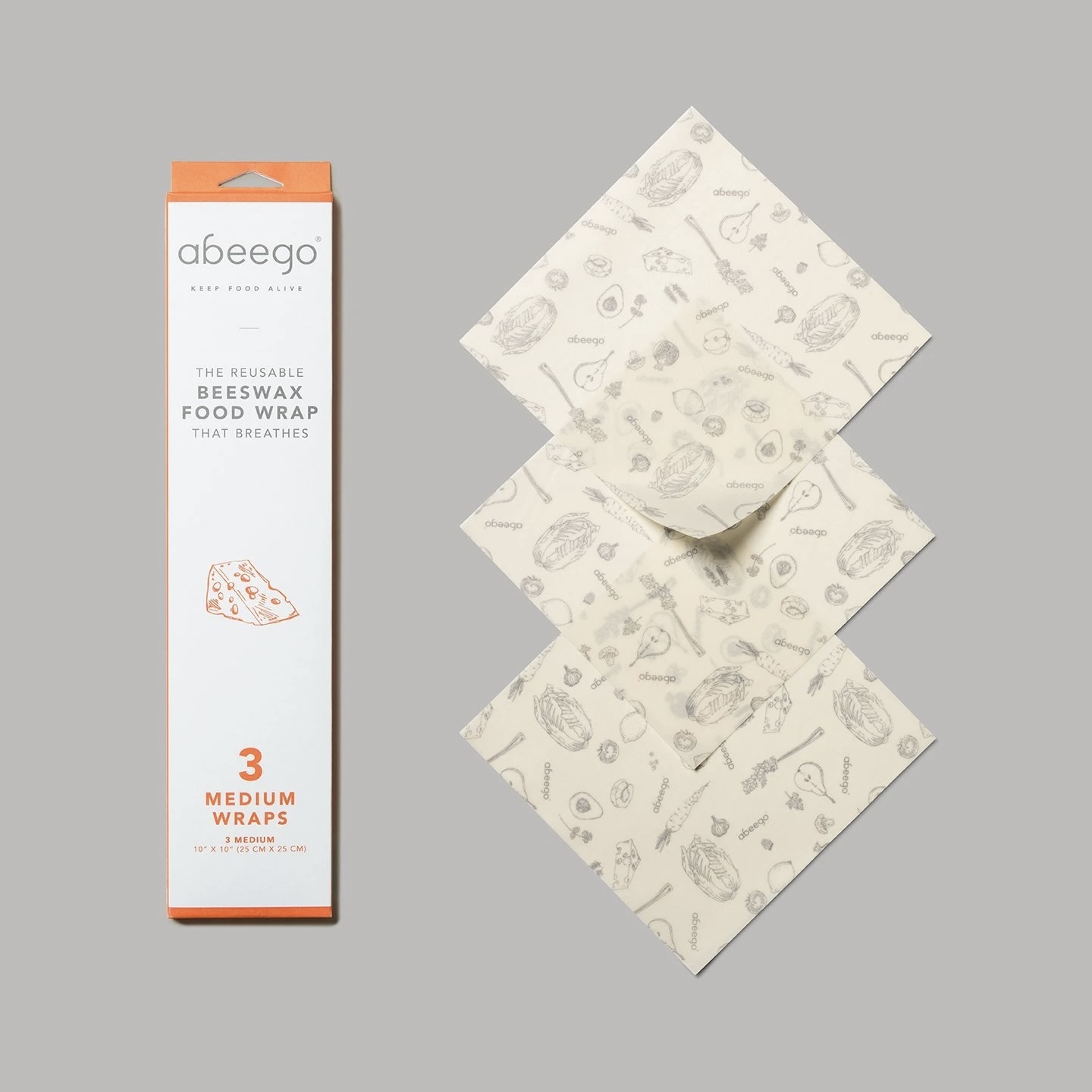 Abeego is the reusable beeswax food wrap that keeps food alive for longer than ever imagined. We're talking crisp lettuce and zesty lemons for weeks on end. Inspired by nature's lemon peel, it's both breathable and protective, creating the ideal environment for preserving fresh food. Abeego can be reused for at least a year and helps households around the globe reduce food waste in their own kitchen.
Available in several sizes and gift packs, Abeego makes a great gift for those conscious about sustainable living.
3)  Nourish Sublingual Oil by Carolina Hemp Co. – $59.00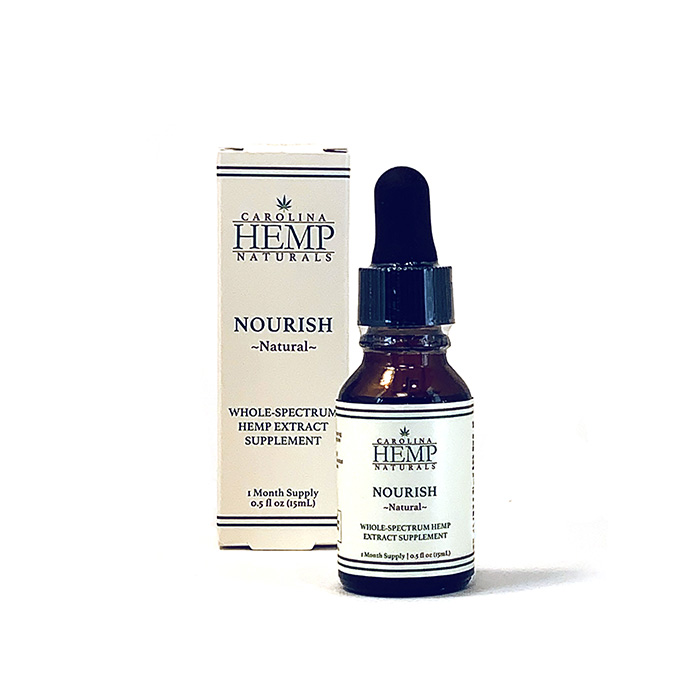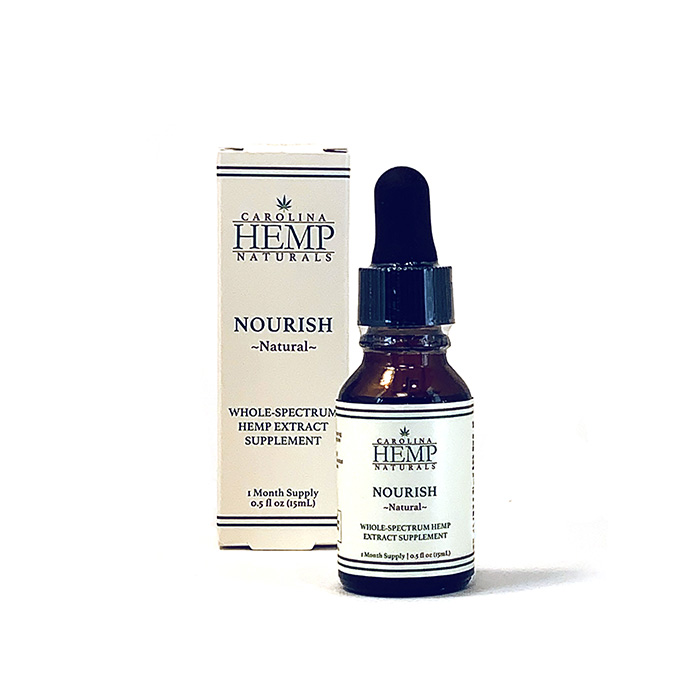 Carolina Hemp Co. learned early on that nature provides plant compounds in specific ratios. Choosing to follow nature, they utilize an extraction process that captures the hemp flower's whole spectrum of compounds. This allows them to deliver the full benefits of hemp-derived cannabinoid nutrition in their products.
Carolina Hemp Co.'s Nourish Oil is minimally refined, providing the entire spectrum of naturally-occurring phytonutrients. All of these compounds working together offer benefits only Mother Nature can produce.
While Nourish is naturally flavored, there is absolutely no lingering earthy taste. This tincture is smooth and clean, making it a solid choice for any adult friend or family member.
4)   Hemp Eyewear – from $176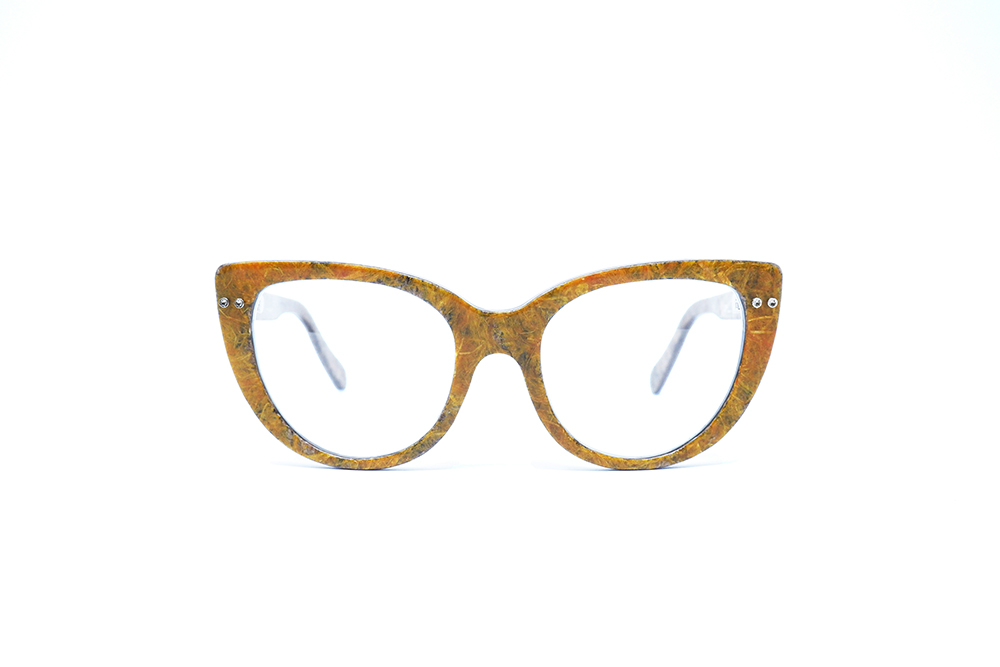 Hemp Eyewear was founded by Sam Whitten in 2016, built upon a passion for sustainability, transparency and craft. All Hemp Eyewear products are 100% natural and vegan, with each frame handmade in Edinburgh using organic hemp grown in France. The collection includes both prescription glasses and sunglasses for all genders, and each style comes with a hemp box, pouch and microfiber cloth.
With an aim to experiment with natural raw materials to develop a range of plastic alternatives, the new 'Primrose' optical style pushes the boundaries of sustainable design by adding unexpected ingredients to Hemp Eyewear's signature seven-step process. The Turmeric colorway is one of a range of natural pigments used in the collection– from blueberries to beetroot – and complements the bold, cat-eye-style frames.
The brand offers free repairs with a lifetime guarantee and provides a recycling service and modular design system as part of its journey towards a fully circular business model. There is also a custom service, allowing for engraved text along with choice of shape, lens and frame colors – perfect for personalizing special holiday gifts.
5)  "Hemp Can Change the World" Cookbook by Shadi Ramey: – $50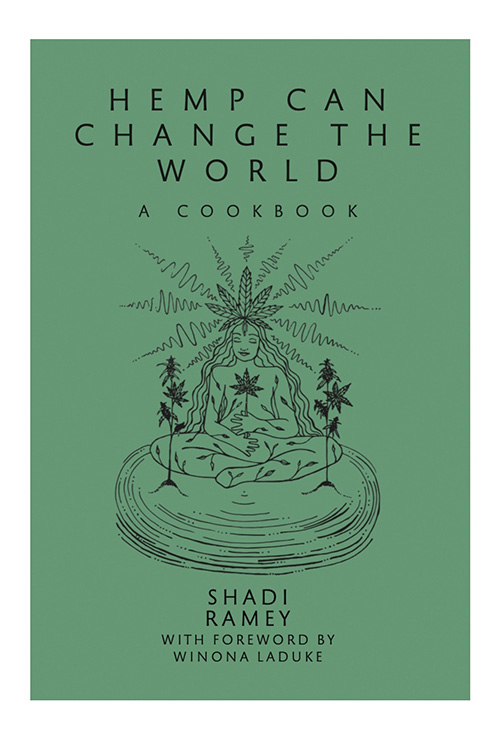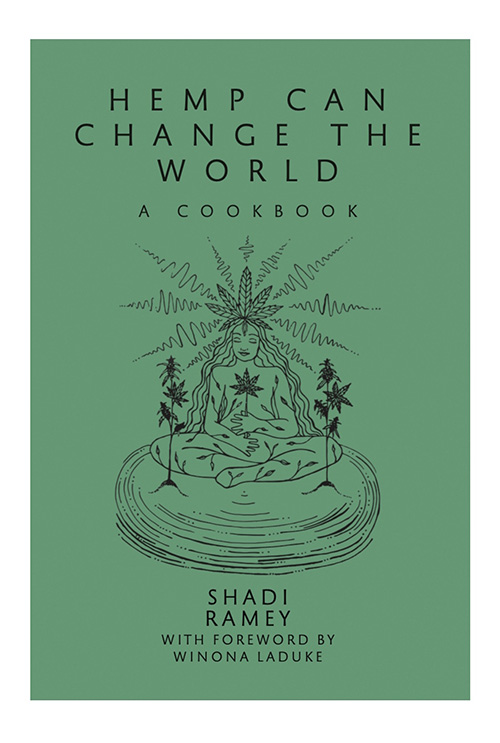 Shadi Ramey discovered her passion for food at an early age growing up in a first-generation Persian household where the act of preparing food was always slow and intuitive. She learned that real food takes hours to create, and that the same reverence must be given when experiencing that food.
Shadi is a self-taught chef combining her interest in cultures from around the world with local, organic ingredients. In 2015, she started growing hemp on her small, organic micro farm, just north of Boulder, CO. Spending time with hemp on a daily basis led to experimenting with hemp food on a deep, immersive level. Shadi's work with hemp food includes all edible parts of the plant – the leaves, flower, hemp seeds and hemp seed oil.
Shadi's recipes are both savory and sweet, traditional and modern, and she loves fusion-inspired food. Having been a plant-based baker for over 20 years, she continues to be an advocate for people, plants, regenerative farming and the intersection of plant-based cuisine, high-vibe food and vitality.
For the first time, Shadi is sharing her delicious hemp recipes in a limited edition hemp cookbook, Hemp Can Change The World, printed entirely on hemp paper! All of the recipes are vegan and gluten free, and many are paleo and keto friendly. Hemp Can Change the World is also the first 100% carbon neutral book project. In Shadi's advocacy for people and sustainability, $1 per book sold will go to The Last Prisoner Project, and one percent of proceeds will be donated to the 1% For The Planet.
This is a one-of-a-kind gift for any hemp advocate. Be sure to get one before they're gone!
6) Hemp Hottie Sauce by Gourmet Hemp Foods – $15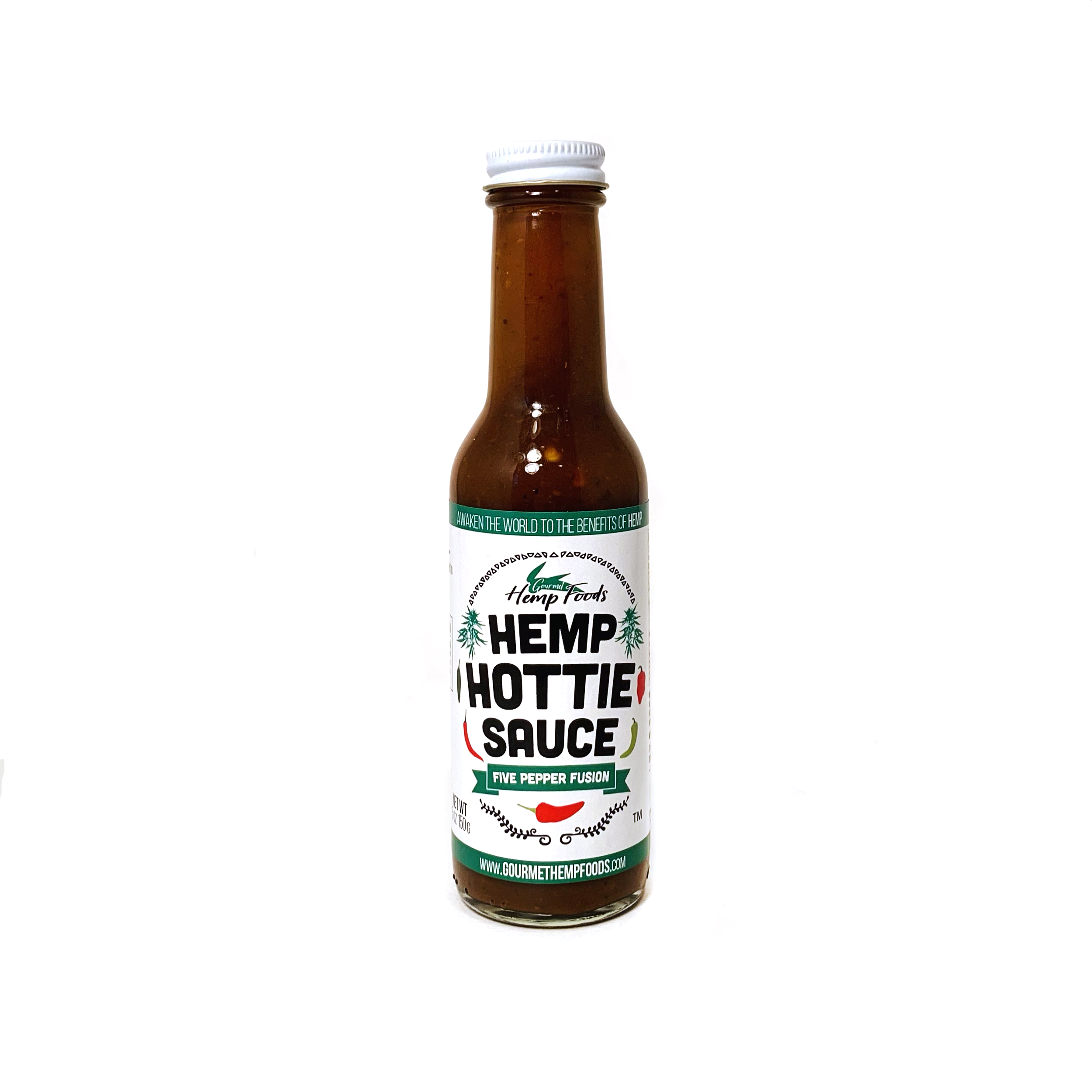 Do you know someone that loves spice? Gourmet Hemp Foods' Hemp Hottie Sauce is packed with five distinct peppers including ancho chile, serrano, arbol, habanero, and jalapeno,  creating the perfect kick and long-lasting flavor and spice. This sauce is packed with intense flavor, but it's still mild enough that we would put it on anything and everything.
Gourmet Hemp Foods peppers are sourced locally from Browntown farms, one of Virginia's oldest black-owned farms, and their hemp seed oil comes from a grower and processor in Pennsylvania.
Hemp Hottie Sauce is fat free, sugar free, and loaded with Omegas 3,6, and 9. The bottles are great for stuffing in a stocking, if you can handle not sharing before Christmas day.
SLOW makes the world's first Himalayan Hemp jeans. Each pair of Slow Jeans saves 3,500L of water compared to a regular pair of cotton denim jeans, which on average requires 1,800 gallons of water to make.
These performance jeans naturally keep sweat, odor, and UV rays away. Slow Jeans was born from the idea of bringing the world's most sustainable fiber back to mainstream fashion, and "slowing down" fast fashion, which is responsible for 20% of global waste water production and 35% of all microplastics released into the ocean.
The fiber used in Slow Jeans is ethically sourced and sustainably processed with natural Indigo dyes. Each pair is consciously crafted to last for generations.  Slow Jeans are exclusively available through a pre-order campaign on Kickstarter.
Give this gift of sustainable fashion this Christmas and help this idea come to life!
8) Sweet Earth CBD –   $21 – $36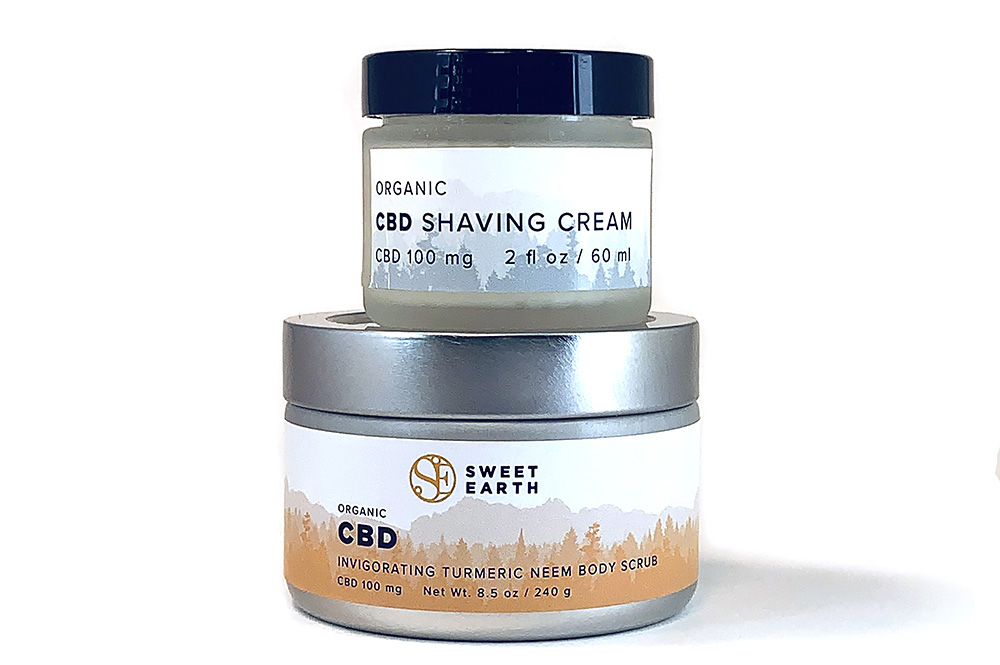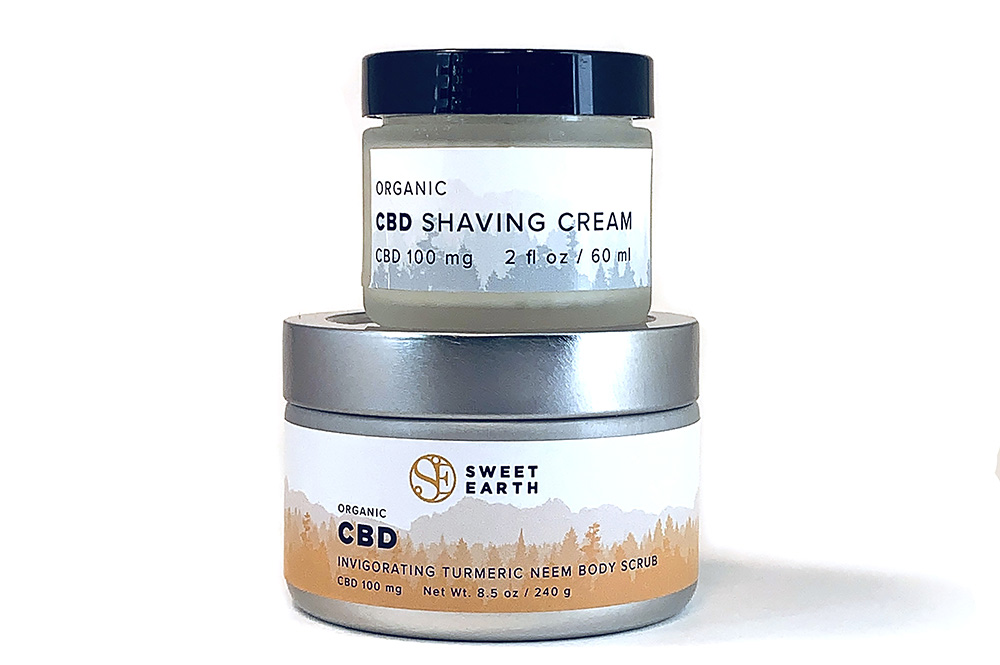 Wintertime can leave your skin feeling extra dull and dry. But, thanks to Sweet Earth's Organic CBD Invigorating Turmeric Neem Body Scrub, your skin can now feel like a newborn baby's. The turmeric used in this scrub is a natural anti-inflammatory th also brightens skin tone, and neem oil helps smooth skin tone with strong anti-aging properties. Contains 100mg of CBD and costs $36.00
Don't forget the boys! Sweet Earth CBD has created an Organic CBD Shaving cream that is light in fragrance and silky smooth when applied. It's packed with soothing aloe, papaya and pineapple to help soften hairs. Each jar contains 100mg of CBD and costs $21.00
9) Focus Tincture by Treaty –  $89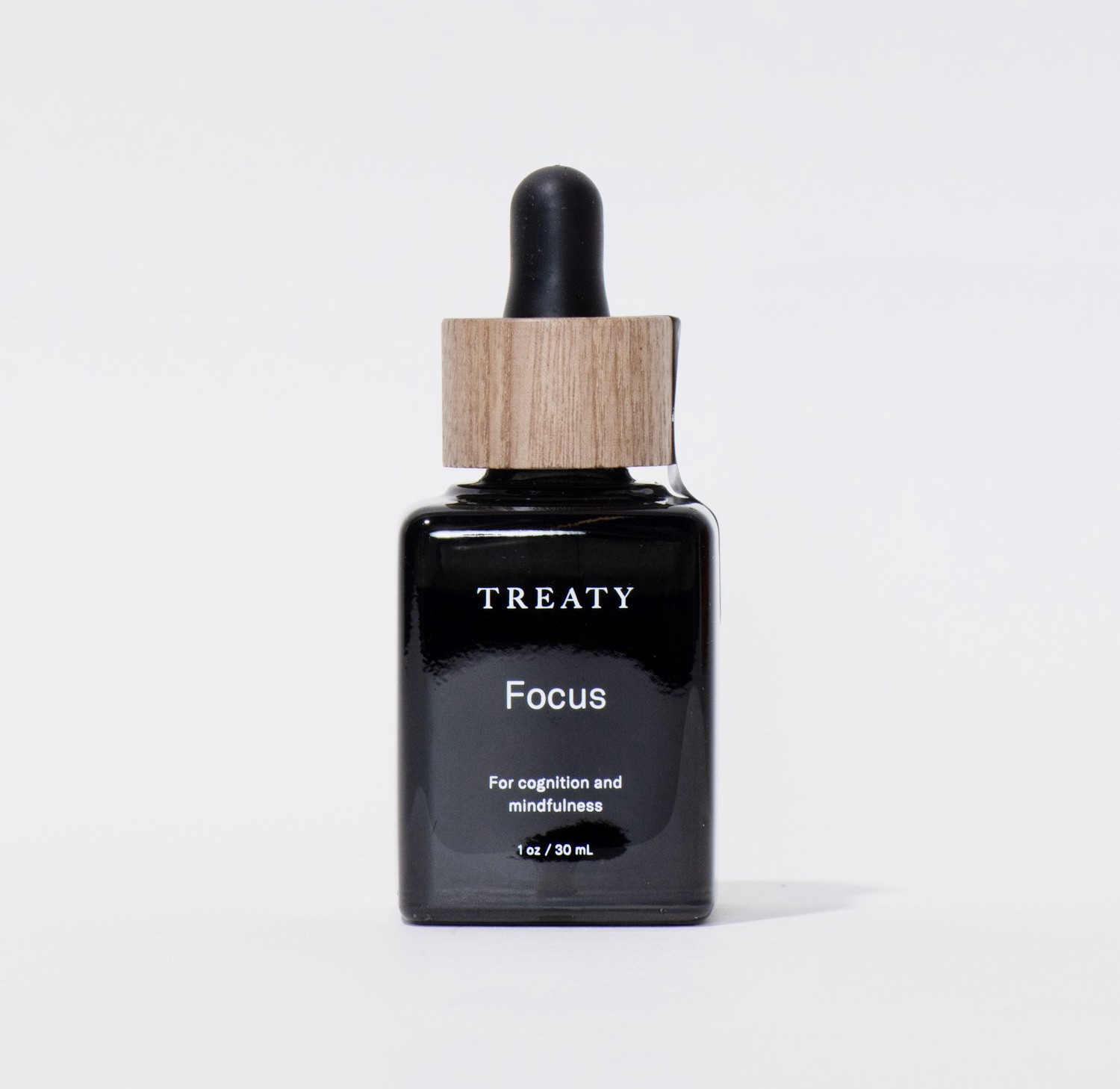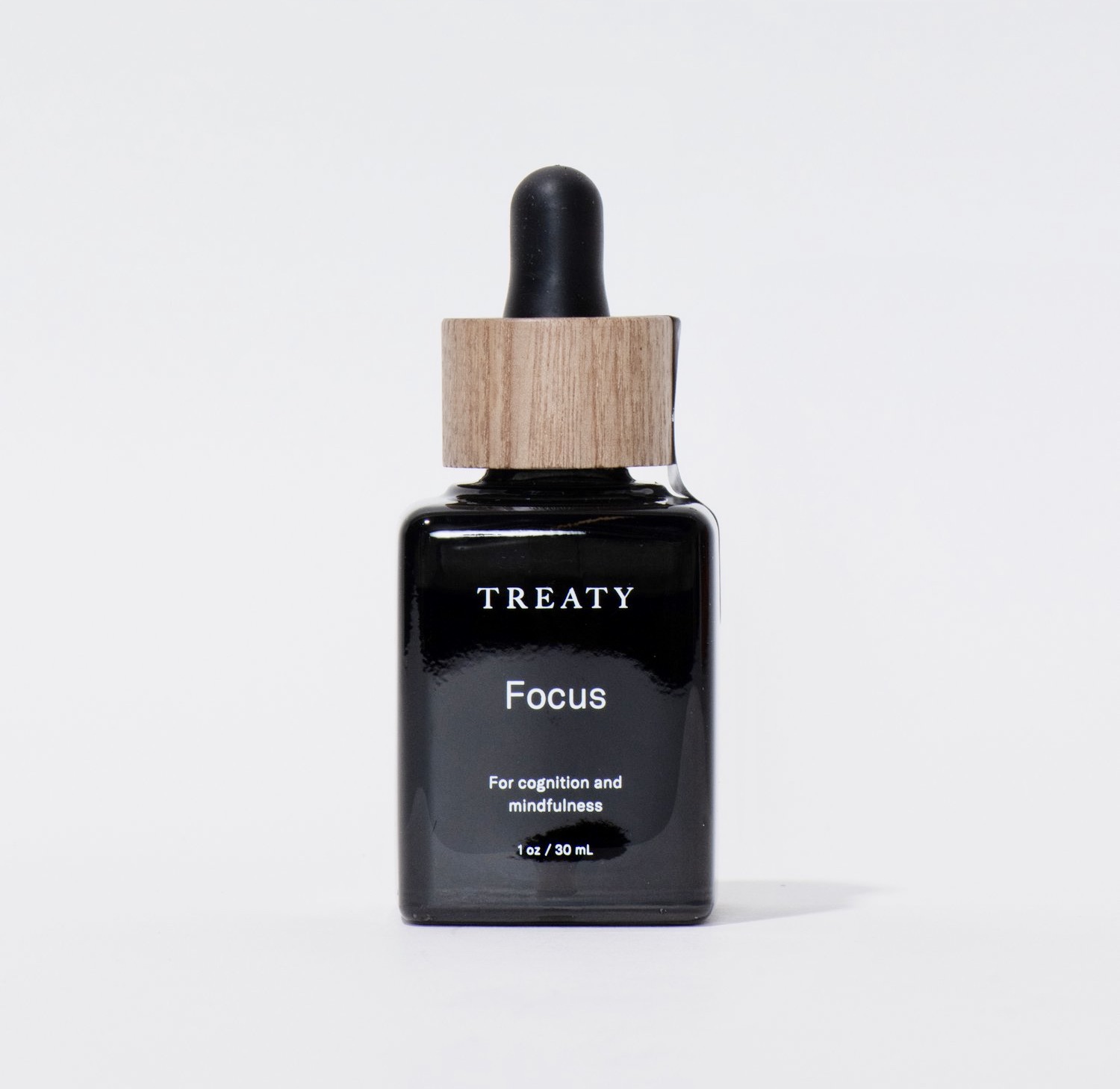 Treaty is a unique brand in that they grow and process their own hemp in Hudson Valley, NY. They develop, use and promote regenerative farming, which improves soil health and reverses the worst effects of the climate crisis. Treaty has formulated several botanical tinctures to help aid in every aspect of life. One of our favorites is their Focus formula.
When taking a dropper of Focus, you're immediately transcended into a lush, refreshing forest. Every inhale feels like a breath of crisp air, which is followed with a delicious, slightly sweet after taste. Focus contains 600mg of broad-spectrum oil and other rich, locally-sourced ingredients, such as white pine, ginseng and spearmint, which all support different health functions.
Focus makes the perfect gift for someone new to CBD and/or someone that doesn't prefer the earthy taste of unflavored hemp tinctures.
10) Austin and Kat – $64.95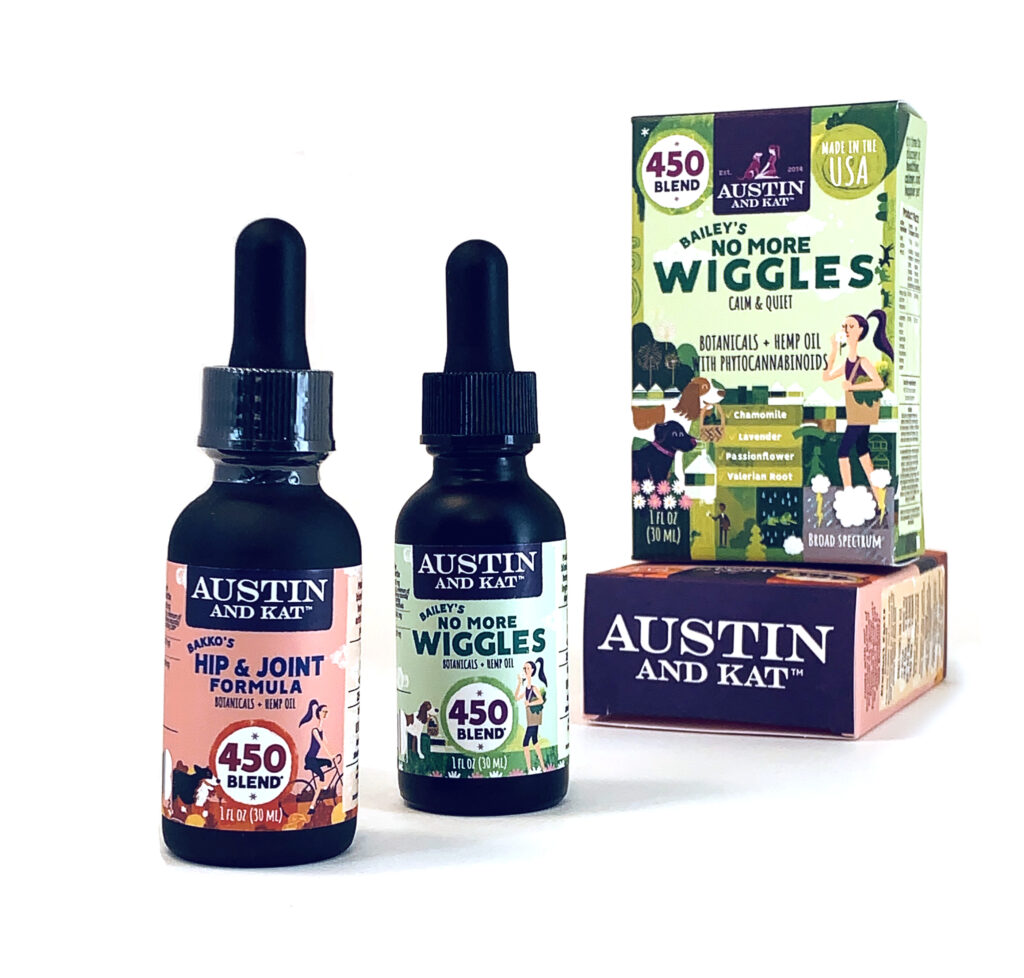 The heartwarming story of Austin and Kat starts with the founder, Kat, and her 12-year-old pup, Brady, who had been showing signs of pain and slowing down from old age. Realizing the benefits of hemp and CBD in pets, Kat began formulating her own natural hemp remedies. When Brady's quality of life was restored, Kat wanted to continue helping other owners searching for wholesome remedies to soothe their pets.
Bakko's Get Up and Go! oil is specially formulated for hip and joint health. It contains a variety of powerful botanicals including New Zealand green mussel, glucosamine and chondroitin, Ceylon cinnamon, and astaxanthin, which is a powerful antioxidant found in krill oil.
If your dog has anxiety issues, Bailey's No More Wiggles is for them. With adaptogenic herbs such as chamomile, passionflower, lavender, and valerian root, this oil provides your dog with a natural calmness and tranquility for all kinds of exciting situations.
Each 30ml bottle contains 525mg of broad-spectrum hemp oil, and a dosage guide. $64.95/bottle or subscribe and save 15%.