A report released today shows that in 2018, the CBD industry had $1.8 billion in sales, with two-thirds of consumers buying their products in cannabis dispensaries. The authors expect those trends to change.
A report on CBD sales and market trends that was released on Thursday by BDS Analytics and Arcview Market Research has some rosy predictions for the industry, with forecasts showing an up-to-five times increase in annual sales to $20 billion by 2024.
This projection, however, is based on an assumption that the U.S. Food and Drug Administration will allow CBD to be used as an ingredient in foods and nutritional supplements. But given the FDA's assertion of authority to regulate CBD and current contention that such uses are not legal, it may be too early to project the growth of the market with any certainty.
The report, titled "CBD: Cannabinoids Leave the Dispensary," offers insight on what products consumers are buying and where and why they are purchasing them. Data on current sales sheds light on the strength of the CBD market, pegged at more than $1.8 billion in 2018.
Where American Consumers Are Buying CBD
Fueled by an increase in consumer awareness of the potential benefits of the cannabinoid, general retailers (not dispensaries) showed sales of CBD products totaling $624 million. The report indicates, however, that the bulk of CBD sales are being made at legal cannabis dispensaries, where an early start in the market and the shops' propensity to educate consumers give them an advantage.
"The Agricultural Act of 2014 opened up pilot programs for hemp growers and led to a proliferation of hemp and hemp-derived CBD products across the country," reads the report's executive summary. "At the same time, legal cannabis dispensaries experienced an increase in demand for higher CBD products. That demand has established the legal cannabis dispensary channel as the biggest revenue generator for the CBD industry to date."
But with an increase in consumer awareness and demand, general retailers are looking for a piece of the CBD pie, too, setting the stage for a battle for market share.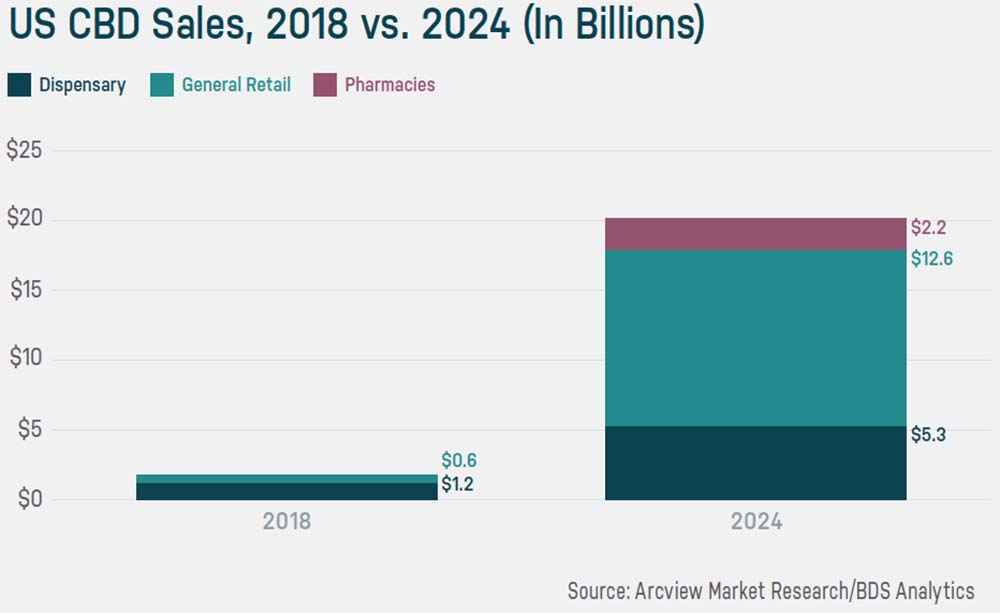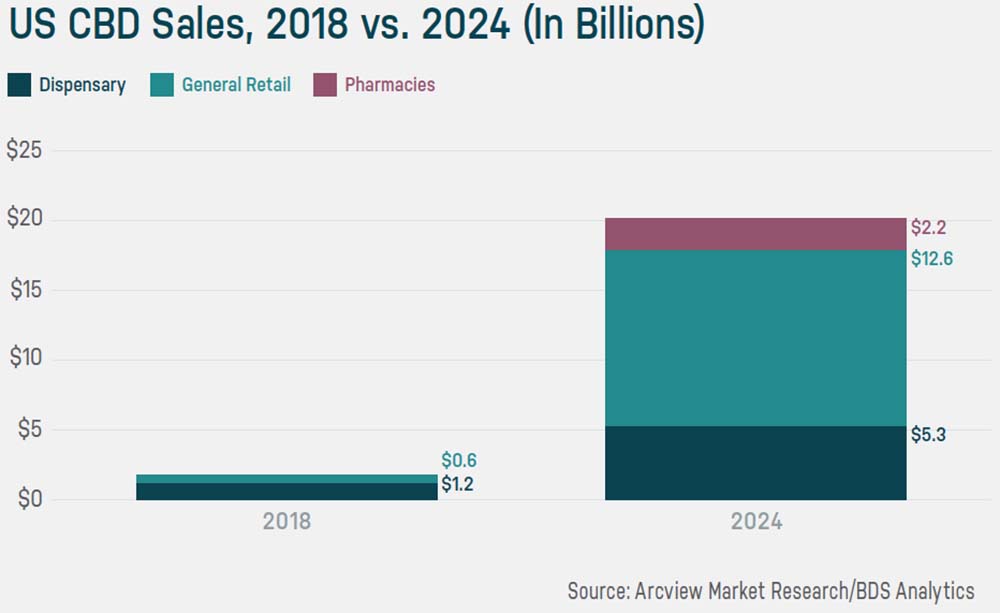 "This is essentially the cannabis dispensaries' battle to lose, and they have substantial advantages against mass-merchant competition that has decimated many specialty-store sectors in the past," the authors of the report write.
The report notes that non-traditional retail outlets, especially vape and smoke shops, are the most popular place that consumers purchase CBD products outside of dispensaries. And while not all states have cannabis dispensaries, vape and smoke shops can be found across the U.S.
"Much depends on the product mix that attracts the most consumer interest," the report adds. "Inhalables [like vapes] set the CBD ball rolling via dispensaries, but will not be widely available elsewhere. Other retail types have advantages specific to their markets, such as a pet store's ability to serve all pet owners' needs in one location."
Jeremy Feldman, the co-founder and brand director of the Pet-Ness hemp dog treat and tincture company, told HEMP in an email that while large retailers have been hesitant to enter the pet CBD market, independent pet shops and smaller chains have been more enthusiastic about the opportunity.
"Sales are strongest online at company-specific websites and at the smaller independent pet stores. Pet specific chains with between one to 12 stores are also seeing strong sales," Feldman said. "Due to the grey areas of the law and confusion over banking regulations, publicly-owned companies including the larger box stores such as PetCo and PetSmart and websites like Chewy and Amazon have yet to fully embrace pet CBD."
A Variety of CBD Products Are Gaining Popularity
The report finds that ingestible items are the most consumed category of hemp-derived CBD products, followed next by topicals and then a relatively small percentage of inhaled products.
Other specialty products are also finding a market with consumers. Pet owners who are buying CBD, Feldman says, are looking for some of the same benefits as consumers who are purchasing cannabidiol products for themselves.
"Pet guardians who are dealing with mild to moderate mobility and anxiety issues in their pet are looking at CBD as a way to holistically treat their pet without the side effects of pharmaceuticals," he said. "The current trend seems to point to pet guardians trying CBD first before spending time and money at the veterinarian for more expensive testing and treatments."
What's Next?
The report from BDS Analytics and Arcview Research highlighted one challenge that CBD companies may face when marketing through general retailers: maintaining consumer confidence in the product.
"Less than half of customers who purchased outside dispensaries in the last six months are confident that the hemp CBD products they have purchased provide the health and or medicinal benefits claimed by the manufacturer," the report notes.
However the FDA decides to regulate CBD, it's clear that demand for products made with the cannabinoid will continue to increase, driving up sales. And even if the agency takes a tight regulatory stance, states may opt to follow the model established in states with legal cannabis and assert their authority. Whichever regulatory path is taken, CBD sales are certain to continue to increase at a rapid pace in the future.
LET US KNOW: Do you think the CBD hype is overblown?